Lucy von Weber, head of marketing for Visit Wales, shares her thoughts on the country's top attractions, culture and coastlines (this comment appeared in the 2021 edition of Who's Who in Group Leisure. To access the digital edition click here.)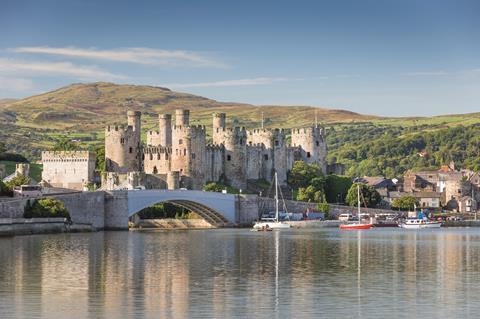 For a small country, the Celtic country of Wales packs a lot in! It is accessible from across the UK and once here it is easy to travel around too. Travelling north to south takes about four and a half hours. The landscape is constantly changing, mountains, coastline, waterfalls, market towns and cities - so you will have to account for plenty of photo opportunities when planning your itineraries. With around 20% of locals speaking Welsh as a first language and all road and shop signs in Welsh and English, there's a strong sense of place too.
There is a lot to see and experience with plenty of attractions to visit too including over 600 castles and four have UNESCO World Heritage Status (castles in Conwy, Caernarfon, Harlech and Beaumaris). National Museums Wales has seven sites each with a story to tell and there are also stately homes, gardens and three national parks (Snowdonia, Brecon Beacons and Pembrokeshire) as well as 11 great little steam trains, award-winning beaches, lots of colourful market towns and Cardiff, our capital city. The more adventurous can zip line down the longest or fastest zip wire in the world at speeds up to 120mph or perhaps take part in a surfing lesson at the first inland surfing lagoon.
There are many walking and cycling trails, which are a great way to enjoy the views of the local countryside along one of our walking or cycling trails. Wales was the first country to have a footpath to navigate the coastline; 'The Wales Coast Path' is an 870-mile way marked route perfect for all abilities, from a stroll along a seaside promenade to a long distance ramble along remote rugged cliffs such as Pembrokeshire.
Sample locally produced food and drink at traditional pubs, cafes and restaurants. Try a Welsh cake, Welsh rarebit, salt marsh lamb or Welsh black beef along with a Welsh beer, cider, wine or one of a variety of soft drinks.
To help you plan itineraries for your clients, we have introduced The Wales Way, a family of three national routes that lead along the coast, through castle country and across mountainous heartlands. They are crossed by loops and links so that you can create your own custom-built Welsh road trips:
• The Cambrian Way - 185 miles. It winds through two national parks: Snowdonia and the Brecon Beacons. It starts or ends in our capital city Cardiff.
• The North Wales Way - 75 miles. It traverses across the northern coastline including two sites with UNESCO World Heritage Status.
• The Coastal Way - 180 miles. The route explores the broad epic shoreline of Cardigan Bay.
Who's Who in Group Leisure
1

2

3

4

5

6

Currently reading

Visit Wales: strong sense of place