Here are some of the best sights in Northern Ireland, from man-made masterpieces to nature's most impressive landmarks.
1. The Dark Hedges, County Antrim
It will take groups less than an hour to walk it, but the Dark Hedges – an atmospheric, tunnel-like avenue of intertwined beech trees – is definitely worth a visit.
This collection of beech trees were planted by the Stuart family in the 18th century. Their purpose was to impress visitors as they approached the entrance to the Georgian mansion, Gracehill House.
Groups might recognise the setting as the King's Road from HBO's huge Game of Thrones television series.
2. Mourne Mountains, County Down
The Mourne Mountains is a granite mountain range located in the south-east of Northern Ireland.
The surrounding landscape is an Area of Outstanding Natural Beauty and planned to be the first National Park in Northern Ireland (there are no national parks so far).
There are a number of cycling and walking trails around the mountains, providing suitable experiences for those of all abilities.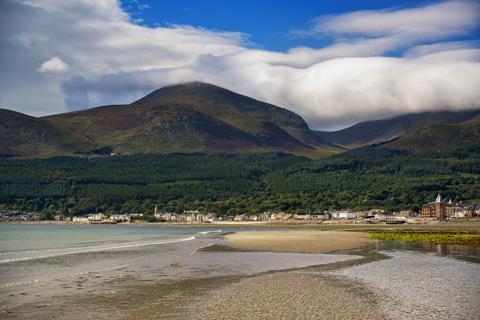 3. Glenariff Waterfall, County Antrim
This waterfall is one of three that can be observed in Glenariff Forest Park. A three-mile long waterfall walkway has been recently upgraded to provide a safe and advantageous location to see these impressive falls.
A central visitor centre, exhibition, interactive display, shop and restaurant complement this area, known by locals as the 'gateway to the Glens'.
4. Mussenden Temple, County Londonderry
The Mussenden Temple is located in the beautiful surroundings of Downhill Demesne near Castlerock in County Londonderry.
It perches dramatically on a 120-foot cliff top above the Atlantic Ocean on the north-western coast of Northern Ireland, offering panoramic views over Downhill Strand and Castlerock Beach.
Groups can explore the 18th century ruins, or walk along a number of cliff top paths.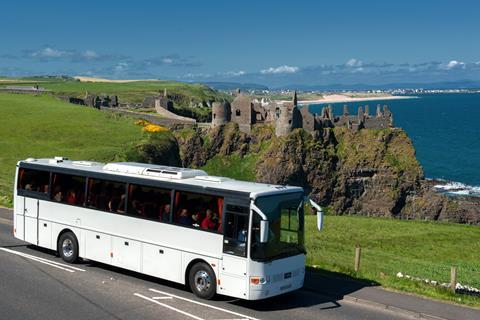 5. Dunluce Castle, County Antrim
Dunluce Castle, now a ruin, was built on the coastal cliffs of north Antrim by the MacQuillan family around 1500AD. Audio tours are available to aid an exploration, as are treasure hunts for younger visitors.
Groups can also explore the surrounding and long-abandoned town that was established in 1608. Visitors today can discover the findings of archaeological digs within the cobbled streets and stone merchants' houses that remain.
6. Carrick-a-Rede Rope Bridge, County Antrim
Carrick-a-Rede Rope Bridge is a famous bridge near Ballintoy that was erected in 1755 by local fisherman. The bridge links the mainland to the tiny island of Carrick-a-rede, spanning 20-metres with the rocks 30-metres below.
The bridge is now looked after by the National Trust, and those daring to walk over can also enjoy a walk with wonderful views from the car park down to the bridge, followed by refreshments in the onsite café on their return.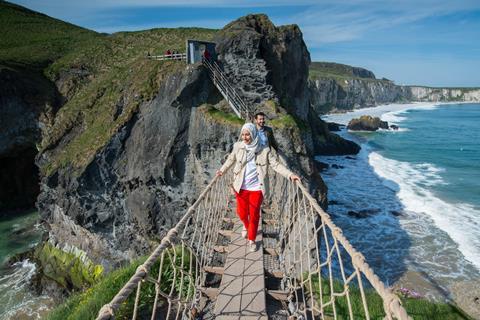 7. Lough Beg, County Londonderry
Gardening and bird-watching groups can both enjoy a visit to the lake of Lough Beg. Botanists from all over the world are said to come to see the rare orchid called My Lady's Tresses which blooms there in August, and you might like to try and spot one yourself.
For bird-lovers, there are a number of species that pause at the wetlands during spring and autumn migrations; visitors can spot Black-tailed Godwit, Green Sandpiper, Wood Sandpiper, Greenshank and Knot.
Visit at sunset for beautiful views across the surrounding wetlands.
8. Giant's Causeway, County Antrim
You didn't think we could finish without mentioning one of the most famous locations in all of Northern Ireland, did you?
Another National Trust gem and one of the country's most iconic, the Giant's Causeway is simply a must-see when visiting.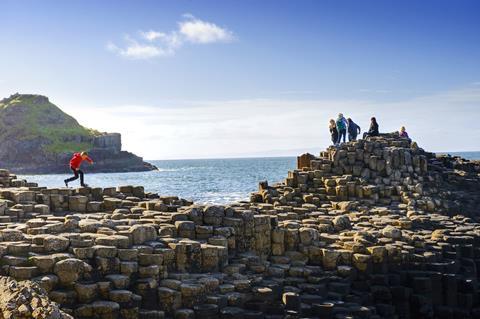 Here you will find an area made up of about 40,000 interlocking basalt columns, which is the result of an ancient volcanic eruption. Or if you prefer the legend, find out about the giant Finn McCool and how he built the causeway as a stepping stone to Scotland to pick a fight with big man Benandonner.
It's ideal for photographers, walkers, and anyone who enjoys observing phenomenal natural creations. Group rates are available, as are guided tours. There is also a visitor centre.