The largest of the Channel Islands, Jersey offers miles of sandy beaches, rugged granite cliffs and winding country lanes, making the island seem a lot farther flung than a short flight away. Here's our pick of things to do for groups while visiting this special place.
1. Take A Jersey Uncovered tour
Explore the island with a team of registered, qualified Blue Badge Guides who can offer tours tailored to groups with the option of travelling by coach, car, foot, bike or kayak. Depending on the theme, the group will be paired with a Jersey Uncovered guide who specialises in that particular field, offering visitors the chance to dive deep into exploring the island.
2. Jersey War Tunnels
History buffs to the island should stop by the Jersey War Tunnels to discover the story of the Occupation through those that lived on the island as the only part of the British isles to be occupied by the Germans during World War One. A new Escape Room will keep visitors entertained plus there is the Love Bird Pottery Studio where groups can paint ceramics and textiles.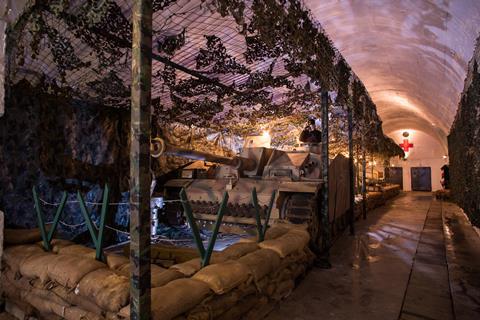 3. A boat trip to Les Ecréhous
Surrounded by water, it's only right that visitors take a trip out to sea on a RIB trip to discover Les Ecréhous or Les Minquiers, two separate clusters of islands just six miles from the coast of Jersey. Groups of up to 12 can charter a boat, with most providers owning a number of boats for larger group bookings. Tours with Jersey Seafaris offer the chance to spot dolphins, Atlantic Grey Seals and varied birdlife, before stopping for a swim or picnic.
4. Walk Jersey's coastline
With around 48 miles of coastal paths, Jersey is perfect for walking enthusiasts, from those looking to stride out around the whole island over four-days to those keen to take on smaller chunks and combine their walk with stops and sights along the way. For something a little different, groups can take a private 'bioluminescence' walk on the eastern side of the island, where at low tide tiny creatures glow in the dark and light up the sand.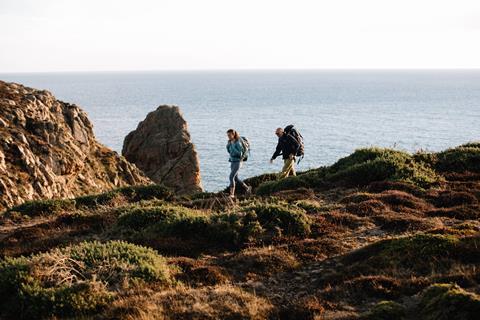 5. Take to two wheels on a bicycle tour
Jersey is a cyclist's paradise, with quiet country lanes and miles of cycle tracks waiting to be explored. Groups can hire bikes or tandems, plus electric EVie bikes can be booked for those seeking an easier ride.
6. Amazing dining experiences
Jersey is home to many gastronomic treats including the finest milk from Jersey cows which goes into making indulgent ice cream, to the Jersey Royal potato and fresh seafood from the waters all around. Recently opened is The Watchmaker , a wine, champagne and charcuterie bar located in the heart of St Helier whilst old favourite, the Jersey Crab Shack, offers delicious seafood on the seafront at St. Brelade's Bay.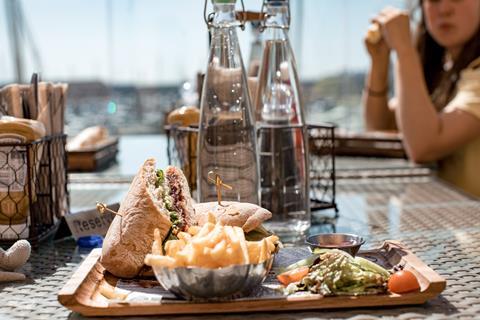 For something special, food lovers might enjoy Bohemia Restaurant, located within The Club Hotel & Spa, which has retained its Michelin-star for a 17th year.
7. Gin tasting at The Channel Islands Liquor Co
Raise a toast with a tipple tour at The Channel Islands Liquor Co, where the experts will lead you on a tasting extravaganza around their beautiful Sail Loft Distillery in St. Helier. An hour session will allow guests to develop a better understanding of flavour, the variety of botanicals, production methods and the history of gin.
8. Head out on the open water in a kayak
Jersey was named the sunniest place in the British Isles for 2020 and 2021 so heading to the beach is a must. A sea kayak tour offers a great way to see Jersey's stunning coastline, with numerous tours offered including those by Jersey Kayak Adventures. Local guides will point out wildlife and interesting sights as you paddle out to sea from locations all around the island.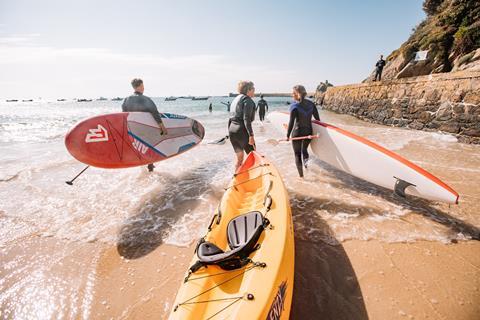 9. Weekender 2022, 3-4 September 2022
This two-day festival immerses revellers in the festival experience. Witness a diverse selection of artists, from global to local acts, over multiple music stages with fresh local food and drink. Past line-ups at Weekender have included the likes of Clean Bandit, Pat Sharp, Bastille and Boney M.
10. La Faîs'sie d'Cidre, 15-16 October 2022
Bringing together communities, volunteers and of course apple and cider experts, La Faîs'sie d'Cidre offers a unique Jersey experience in the beautiful surroundings of Hamptonne. Live music, entertainers, creative activities, dance, artisan sellers, fantastic food and of course cider are there to enjoy, with something for everyone.
Regional flight routes to Jersey Airport in St Peter operate from UK cities including Exeter, Liverpool and Southampton. For more information about group travel to Jersey go to www.jersey.com.