Monkey World, the internationally-acclaimed ape rescue centre, is home to over 250 rescued and endangered monkeys and apes.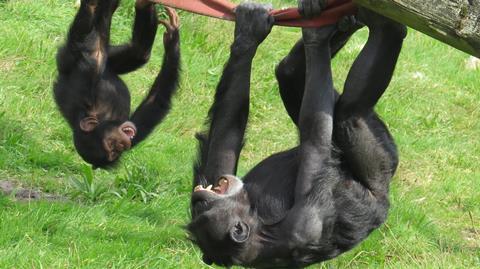 Opened in 1987 to provide abused Spanish beach chimpanzees with a permanent home, the site is now a sanctuary for primates from all over the world including the largest group of chimps outside Africa. Many have been neglected, kept in unnatural conditions, or experienced unbelievable cruelty.
At Monkey World, they can all enjoy the company of their own kind in a safe and natural environment, and some are now part of international breeding programmes for endangered species.
For over 20 years, Monkey World and its inhabitants have been the subject of documentaries on TV's Monkey Business and Monkey Life. From rescue to rehabilitation, the programs are a true to life soap opera following the lives of the monkeys and apes.
Series 12 first aired on Pick TV in December 2019, and features some of the most amazing rescues so far. Viewers will see the incredible story of chimpanzee Naree, who was rescued from a Thai circus show. After initially finding her in 2003, Naree finally made it to the sanctuary in 2018. Visitors to the park can see Naree's happy ending, as she finally lives as naturally as possible with her own kind, for the first time since she was stolen from her mother as a baby in the wild.
Combining fun with conservation and animal education, half-hourly talks by the dedicated Primate Care Staff explain all about man's closest living relative. They love to share their knowledge of all the individuals in their care, so don't hesitate to ask any questions when the talk is over.
The park also includes a Woodland Walk, several play areas for children including the south's largest adventure playground, so once the children have seen the primates, they can "monkey around" in the Great Ape Play area to let off steam. There are three main catering outlets that offer a range of hot and cold food, snacks, drinks and confectionery, or visitors are welcome to bring their own packed lunch and enjoy the beautiful Dorset countryside in one of the park's many outdoor picnic areas.
Based in Wareham, Dorset, Monkey World has ample free parking for cars and coaches. Discounts are available for pre-booked groups, and guided tours and meeting room hire are also available. Monkey World also offers free entry and hot drinks for the driver.
Visitors to the park support the centre's rescue and rehabilitation operation. As a self-funded rescue centre, Monkey World simply could not have helped its 260+ residents without the ongoing support of the general public.
Top tips for visitors:
Be patient. You're seeing primates in naturalistic, large enclosures. Take your time at each viewing window to see the family group. Check the indoor enclosures too, and spend a bit of time waiting before moving on.
Take comfortable shoes! The park is spread over 65 acres, with over 260 primates to see! Prepare to spend a bit of time walking around. Monkey World provides free of charge mobility scooters to those who struggle with walking. These can be reserved in advance by calling 01929 462537.
Visit the free of charge keeper talks. The primates stories are fascinating- here them from the people who know the apes and monkeys best.
Factor in time to visit the Malagasy lemur enclosure. The walk-through enclosure is open for a few hours each day, so visitors can walk amongst the troop of ring-tailed lemurs. Be sure to check the opening times at the entrance gate!
Monkey World is open every day (except Christmas Day) from 10am to 5pm (10am to 6pm during July and August) and last entry is one hour before closing.

Visit www.monkeyworld.org for more information, or call 01929 462537.
At Monkey World in Dorset, visitors are immersed into a wildlife park with a difference- nearly all the primates here are rescued. Here you can see rescued chimpanzees rehabilitated into family groups, Europe's only orangutan crèche, and over 250 rescued and endangered monkeys and apes!