After more than 12 years and almost 10 million visitors at the Apollo Victoria Theatre, "this hit musical is still casting a spell over London" (Time Out).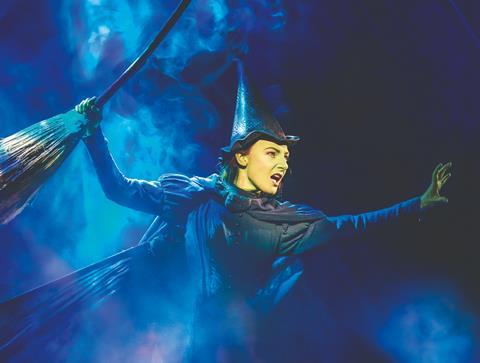 Already the 9th longest running musical in West End history, Wicked is one of London's most popular and spectacular musicals, complete with award-winning costumes, gigantic sets and show-stopping songs by Academy Award-winner Stephen Schwartz.
L. Frank Baum's classic story The Wonderful Wizard of Oz was first published in 1900 and his fictional land of Oz continues to thrill and fascinate the public after more than 100 years. A publishing phenomenon, it was to be the first in a series of 14 Oz-based stories.

"Packed with wit, storming songs and beautiful costumes" (The Guardian), Wicked imagines a beguiling backstory and future possibilities to the lives of Baum's famous characters and reveals the decisions and events that shape the destinies of two unlikely friends. Along their magical journey, you'll discover how one comes to be called 'good' and the other 'wicked'.

The original Tony Award-winning Broadway production, at the Gershwin Theatre, recently celebrated 15 landmark years and this spellbinding musical sensation has now been seen by 60 million people in over 130 cities in 16 countries around the world.

In the UK, this "ravishing spectacle" (Express Online) has won numerous accolades and awards, including two Olivier Audience Awards and a Visit London Gold Award, and most recently received 2019 'Reader Recommendations' from both Good Housekeeping and Cosmopolitan.

The magnificent, Grade II* Listed Apollo Victoria Theatre, which first opened in 1930, has been home to Wicked since its London premiere in 2006. All of the brand new 2,328 seats in the stunningly restored auditorium are located on just two levels (Stalls and Circle).

Discover a new Victoria
Home to many of the capital's most popular tourist attractions, prestigious hotels, restaurants and theatres, Victoria is completing a multi-billion-pound regeneration, transforming the area into a vibrant business, residential, food and cultural district for the 21st century.
NOVA FOOD brings together some of London's most exciting eateries and cocktail bars set amongst stunning public spaces. Two minutes from the theatre, there are more than 20 restaurants to enjoy, including the popular Balan's Soho Society, Bills, Browns, Franco Manca, Ibérica, Wagamama and Zizzi as well as a host of exciting new independent restaurants.

There are also a wealth of additional opportunities for group visits all within walking distance of the theatre, including The State Rooms at Buckingham Palace, The Queen's Gallery, The Royal Mews, the Houses of Parliament and the UNESCO World Heritage Site of Westminster Abbey.
For groups, there really is no place like Wicked…
Getting to the theatre

If arriving by coach, use the Vauxhall Bridge Road entrance to the theatre, where coaches can set down and pick up directly outside.
London Victoria Mainline and Underground stations are a one-minute walk from the venue. The brand-new Wilton Road exit from the Underground is directly opposite.

Group booking information
Groups of 10+ will save up to 50% - tickets from £29.50.
Groups of 35+ will save up to 55% - tickets from £25.
These include one free group organiser/leader ticket per booking*.
*Group bookings are subject to terms and conditions, availability and exclusions. Dates, times and rates are subject to availability and change without notice. One free group organiser/leader ticket applies per booking for groups of 10+ (the 11th ticket is free). Not applicable to senior groups. No refunds or exchanges.

When Dorothy famously triumphed over the Wicked Witch of the West, we only ever heard one side of the story. Gregory Maguire's acclaimed 1995 novel, 'Wicked: The Life and Times of the Wicked Witch of the West', re-imagines the Land of Oz, creating a parallel universe to the familiar story written by L. Frank Baum and first published as 'The Wonderful Wizard of Oz' in 1900.