This colourful celebration of ABBA's timeless tunes means audiences across the UK are in for a Super Trouper night out!
"Attention, anyone with a nervous disposition should be aware that this production features plenty of platformed heels and lycra." Excitable cheers followed this message after the lights dropped, when in reality, all you had to do was look around the Buckinghamshire venue to see plenty of outrageous outfits which more than matched the vibrant display on stage. Well, why not?
This cult following wiggled in their seats as hit after hit helped to tell the story of a mother, a daughter and three possible dads on a Greek island before a big wedding day, but you knew that already. If you didn't, where have you been? Mamma Mia! has now been seen live on stage by 65 million people across the world and of course has been turned into two record-breaking movies.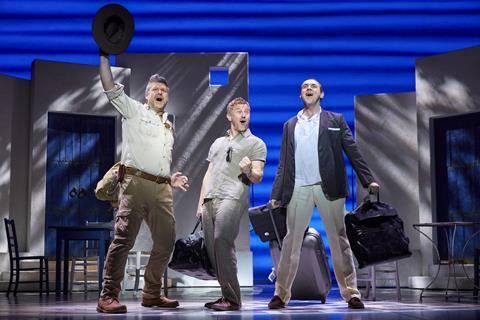 We're quickly introduced to Sophie Sheridan, played by Jena Pandya, who opens the performance with a delicate rendition of I Have a Dream. Her vocals are effortless throughout but offer her character's more vulnerable side from the off in this one, setting the scene as she invites her potential fathers to her wedding. What follows is one big ABBA party, saying a gigantic Thank You For the Music to the Swedish super group who continue to inspire people across the globe.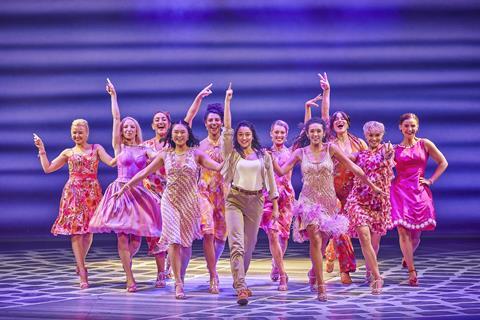 Sophie's mother Donna (Sara Poyzer) has no idea that her former love conquests are on the way, and when she sees all three for the first time in 21 years, the show's title track is a fitting moment to describe the unfolding situation. Red lights beam down over Poyzer who sprawls herself across the staging in a mass panic. Slowly the song builds until the full company power through the number to give it the respect it deserves.
Each potential father eventually promises to give away their daughter at the wedding, culminating in a heartfelt delivery of Slipping Through My Fingers as Jena Pandya and Sara Poyzer showcase a mother and daughter's bond and come to the realisation, beautifully, that all they've ever needed is each other.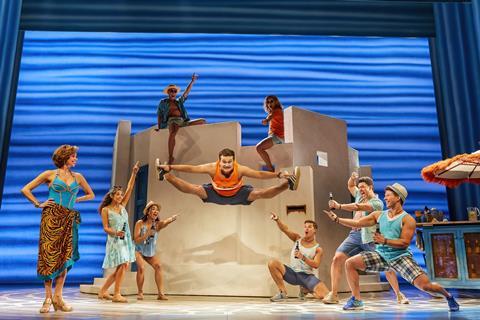 It all sounds very dramatic and soul destroying but there's plenty of uplifting performances along the way, especially when Donna's former band mates Tanya (Helen Anker) and Rosie (Nicky Swift), from Donna and the Dynamos, appear in sparkly flares and roll back the years in a feisty rendition of Super Trouper.
The show is incredibly funny too, featuring many crude remarks and saucy routines to go alongside the hits – a special mention should also go to Rosie and Bill's (Phil Corbitt) version of Take a Chance on Me, I won't ruin it, but let's just say they rekindle an old flame in the most striking way possible. The best thing about the show? You don't need to be an ABBA fan to appreciate the action on stage. Sure, it helps, but each number includes fabulous dances and bright costumes against a basic set design to make the most of the space available.
If you Take a Chance and spend your Money Money Money on a ticket, you won't be calling for an S.O.S, that's for sure…
We saw Mamma Mia! on Tuesday 2nd August at Milton Keynes Theatre. The tour currently runs until 15th April 2023, with more dates to be added soon.
Group rates are venue specific with more information available at mamma-mia.com.

With a love of journalism and travel, Harry enjoys writing about his experiences for GLT readers to use as inspiration. Brighton, Dublin and Amsterdam are among his favourite cities to visit and he enjoys delving into historical sites too – especially those linked to the Tudors and World War Two.