GLT reports back from a very warm Reader Club Trip at the National Memorial Arboretum in Staffordshire, which proved a major hit with GLT readers.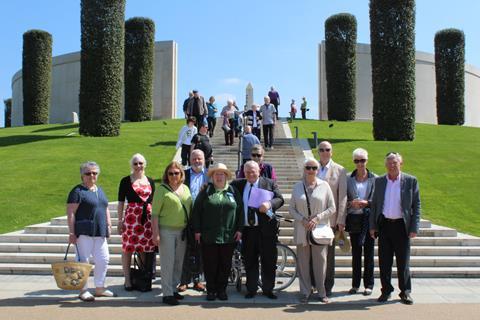 We frequently hear from GTOs how much the weather can affect a group trip – so it's great to be able to report back from a day out where the weather was truly on our side. I, along with a party of Group Leisure & Travel readers, enjoyed a trip to the Arboretum with sun cream and hats at the ready, and marvelled over the outdoor offering under clear blue skies.
This Reader Club Trip provided attendees with an overview of what the National Memorial Arboretum is, and what groups can enjoy there. As well as witnessing a Daily Act of Remembrance, we were taken on a guided tour around many of the major memorials, before enjoying a delicious lunch and an informative talk.
"My wife and I enjoyed the visit enormously. We have started arranging a group visit with about 25 people already – thank you so much for the opportunity to visit the Arboretum prior to taking them; the information gained will prove invaluable."

Steve Wynn, Gloucester Fun Raisers
The feedback from those who were on the trip was very positive and many of those who attended are already planning to return with their groups.
Two minutes of perfect silence
Everyone who visits the Arboretum has the chance to observe a Daily Act of Remembrance in the Millennium Chapel of Peace and Forgiveness. As a national site of remembrance, the Arboretum holds the two minutes of silence at 11am on every day of the year without exception.
It is the only place in the UK where you can do this, and serves as an appropriate reminder that even though your day out is going to be a fun and interesting one, the thinking behind the Arboretum stems from poignant origins.
You don't have to sit in for the silence, but I'd recommend doing so, as it really brings together those in attendance and offers an informative introduction to the history of the Arboretum. The volunteers who run the introductory talks are full of knowledge and happy to be questioned about everything from donations to the symbolism behind some of the memorials.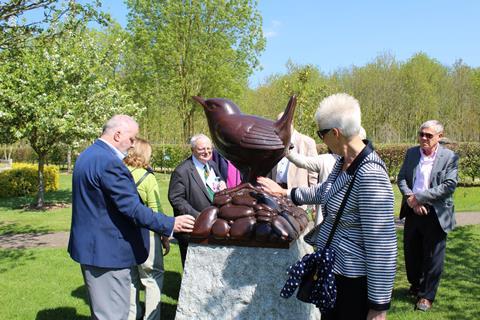 A grand tour
Our group was split into two to explore some of the Arboretum's main memorials, and we went on foot to see them up close. There are more than 300 memorials overall, each nestled in a woodland landscape, with a story waiting to be shared. The site overall is almost like a giant art installation; many of the commemorative pieces are colourful and incredibly interesting to look at.
The walking tour I was on took in highlights including the Evacuees Memorial, which is intended to portray the social upheaval of World War Two; the Basra Memorial Wall, which commemorates the UK Service personnel who lost their lives on combat operations in Iraq; and The Gift of Life memorial which pays tribute to organ donors.
The most recognisable memorial is that of the Armed Forces, which remembers those members of the Armed Forces who were killed on duty. The memorial is a jaw-dropping piece of architecture comprising a 43 metre diameter stone structure with two curved walls and two straight walls containing the names of those honoured here. It's unlikely you'll miss it; it's gargantuan compared to the rest of the monuments and statues.
"What a truly great day we had at the National Memorial Arboretum! A very interesting and thought provoking visit; we look forward to bringing a group to experience this special place."

Gordon & Gayle Hadden, B & B Group Leisure
Group who don't want to walk around the Arboretum will find land train and golf buggy tours available which head to different parts of the site. Land train tours can take up to 70 people at one time, just make sure you book your group onto one ahead of your visit.
More at the Arboretum
In addition to the outdoor offering, the National Memorial Arboretum has a number of exhibitions running throughout the year. Our trip gave us all a chance to explore to Fashion and Freedom – an exhibit running until November that looks at how women's fashion in World War One has influenced fashion today.
And in Landscapes of Life (a permanent display), you can use an audio guide to hear a variety of moving and fascinating stories, providing the great insight to the Arboretum and its rich collection of memorials and wildlife.
Benefits for groups
Groups of ten or more are asked to book in advance of their visit to the Arboretum. Dining packages in a private room, special tours, and discounted rates on features like the land train and the exhibitions are available.