The North Yorkshire Moors Railway (NYMR) has launched its Pullman dining services for 2023, including a 50th anniversary pullman menu to mark its golden anniversary.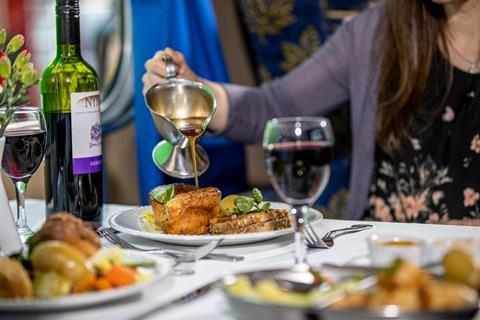 Departing from Grosmont Station, guests can board one of the NYMR's historic Pullman dining carriages and travel through the heart of the North York Moors National Park while enjoying a meal.
Voted as a finalist in the Best Group Dining Experience category at the 2022 Group Leisure & Travel Awards, groups of all sizes are welcome once again for the 2023 season, but must prebook in advance and pay upfront.
Beginning on 30th March, the Pullman services run across a variety of dates, with different menus on offer:
Spring Moorlander (30th March - 11th June): dishes include Dales grass fed pork loin; goats cheese and beetroot pie; and seafood bouillabaisse.
50th Anniversary (27th April - 7th May): celebrate the NYMR's half century with the likes of salmon gravlax; asparagus & wensleydale tart; plus a trio of desserts.
Afternoon Tea Week (15th - 18th June): offering a selection of finger sandwiches; chef's homemade cheese and chive scones; victoria sponge; and lemon posset.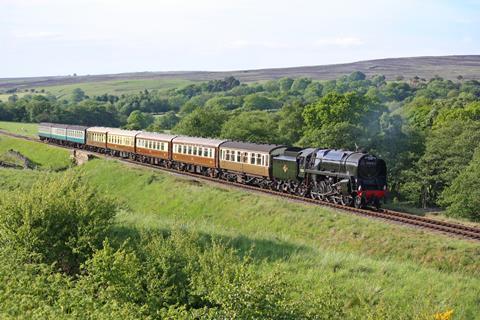 Summer Moorlander (22nd June - 3rd September): dishes include dressed Whitby crab salad; smoked duck breast with wild berry dressing; and roast chicken supreme.
Yorkshire Day (27th July - 6th August): roast leg of Yorkshire lamb; vegetable and wensleydale bake; and Yorkshire seafood chowder will all be on offer to celebrate the best of Yorkshire's finest produce.
Autumn Moorlander (7th September - 5th November): warming specials include a chef's homemade spiced parsnip soup; Radford's butchers hand-made steak and ale pie; slow cooked Lamb Henry.
Restored to their former glory, the Pullman carriages are described as a stylish sanctuary, transporting guests back in time to the golden age of train travel.
The NYMR team says it prides itself on offering the highest quality of service and seasonal menus which feature the best locally sourced food and drink.
Enjoy a vintage rail journey
Groups in search of a historic rail journey without the dining experience attached can still opt for a trip with the North Yorkshire Moors Railway.
Railway highlights include Pickering Station, known as Hogsmede Station in Harry Potter and the Philospher's Stone and which transports guests back to the 1930s and Goathland.