Groups visiting Suffolk next year can take part in commemorative events marking the Abbey of St Edmund's founding.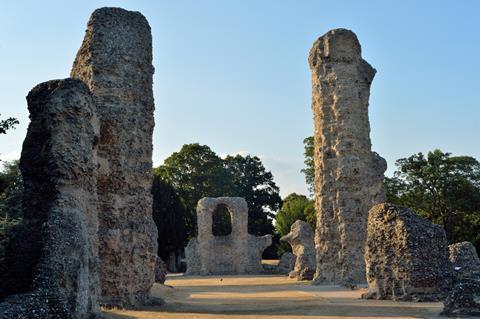 The Suffolk town's abbey is honouring 1,000 years since its founding with a programme of events running until St Edmund's Day weekend on 20th November 2020.
A group named The Abbey 1000 will be managing the year of celebrations, working with the cathedral and Heritage Partnership to deliver cultural, musical, religious and civic events such as concerts and pageants. Here are some highlights:
Visits to the abbey
The remains of the English Heritage site are in the heart of Bury St Edmunds, including a complete 14th century Great Gate and Norman Tower and parts of St Edmundsbury Cathedral. Surrounding the ruins are the Abbey Gardens and its 14 acre park, which groups must walk through to access the abbey.
Religious procession, 23rd-24th May
For the first time since the dissolution of the monasteries in the 1500s, there will be a procession of 100 Benedictine monks and nuns, and hundreds of other people from communities around the country. The former Archbishop of Canterbury, Rowan Williams, will also be in attendance.
Other religious events include pilgrimages from St Benet's Abbey in Norfolk and Ely Cathedral in Cambridgeshire. At St Edmundsbury Cathedral, groups can attend an exhibition of seven manuscripts, written and decorated by the hands of monks and reunited with their place of origin for the first time since 1539.
Aldeburgh Festival opening, 12th June
In honour of the anniversary, the 73rd Aldeburgh Festival will open at St Edmundsbury Cathedral on 12th June - marking the first time that the festival has commenced outside of the Suffolk coast for more than 50 years. Focusing on the arts, specifically classical music, the festival runs for just over two weeks. Find out more about this year's artists in residence and performances online at https://snapemaltings.co.uk/season/aldeburgh-festival.
Community projects
Visitors to the abbey can find a monthly changing sculpture in the crypt, and a themed mosaic at the local arc shopping centre. Local schools, groups and companies are invited to organise their own charity events in an effort to raise money for three charities: St Nicholas Hospice Care, St Elizabeth Hospice and EACH (East Anglian Children's Hospices).
The Abbey of St Edmund
St Edmund was the first patron saint of England and king of East Anglia. His remains were enshrined in the abbey and his name given to the town that grew around it, which became one of the most famous pilgrimage sites in the country.
During the dissolution of the monasteries in 1539, his shrine was plundered and remains went missing. Where he was taken, nobody knows - although some historians believe he still resides somewhere in the abbey's grounds.
Groups wishing to organise a visit to the abbey or attend any of the above events can get in touch with St Edmundsbury Borough Council on 01284 764667.