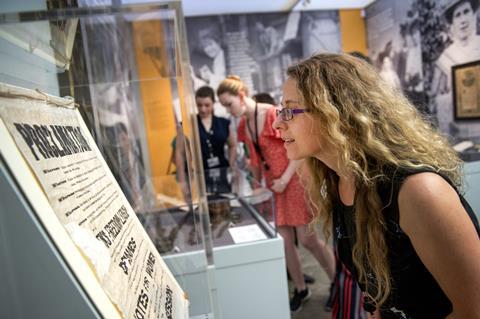 To celebrate 100 years of the first women getting the vote, UK Parliament has launched a Voice and Vote exhibition to tell the story of women and Parliament.
Located in Westminster Hall, the free exhibition will use immersive and interactive technologies to show the hidden history of UK Parliament, from the campaigning and the protests to the achievements.
Lost historic spaces which were used to segregate women from the business of Parliament will be recreated and the story of those crucial campaigners and trailblazers retold.
The exhibition will include key historic objects from Parliamentary collections. In addition, it will feature a series of significant items on loan from around the UK, brought together for the first time ever. The displays will be open until 6th October.
What's in the exhibition?
Among the items in this exhibition are re-creations of lost historical spaces of the Palace of Westminster, rare and previously unseen historic objects, and pictures and archives from the Parliamentary collections and elsewhere.
Visitors will delve into the past and discover what women would have experienced in The Cage, The Tomb, The Chamber and The Ventilator.
The Ventilator, for example, is a loft space above the House of Commons Chamber where 200 years ago women watched and listened to Parliamentary debates. Women were banned from the public galleries, so those who were politically engaged would make their way to this space to observe.
The Chamber, meanwhile, explores the experience and work of women MPs and members of the House of Lords today. Women have now occupied the highest positions in Parliament, including Betty Boothroyd, the first, and only (so far) female Speaker, and Baroness Hayman, the first Lord Speaker in the House of Lords.
Melanie Unwin, co-curator of the Voice and Vote exhibition, said: "For the first time, we are recreating the sounds and atmosphere of the uncomfortable spaces which women were confined to – to show the magnitude of what campaigners and early women MPs achieved despite the limitations placed on them.
"Revealing this hidden history should help inspire us all to make use of the rights that women of generations past have dedicated their lives to."
For further information about Voice and Vote: Women's Place in Parliament visit www.parliament.uk/vote100/voice-and-vote/