The hit musical has revealed that it is now taking bookings until 23rd May 2020 at London's Phoenix Theatre, having recently celebrated its 300th performance and 300,000th visitor in the UK.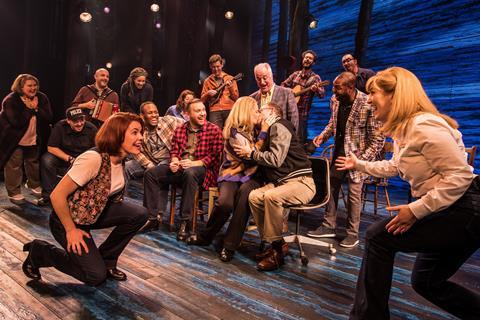 The joyous musical tells the true story of 7,000 stranded air passengers during the wake of 9/11, and the small town in Newfoundland that welcomed them. Initially running until February 2020, producers have now announced it will run until May.
In honour of the kindness shown by the people of Newfoundland, the London company of the production has also announced a partnership with homeless charity Centrepoint.
Members of the Come From Away team will join the Centrepoint 'sleep-out' on 21st November, to raise awareness and funds for the charity's good work.
More about the show
The musical continues sold-out engagements on Broadway, in Canada, in Australia and on a 60-city North American Tour.
It has also been announced that a tour of China will commence in Shanghai from May 2020, and a feature film adaptation is in the works.
On 11th September 2001 the world stopped. On 12th September, their stories moved us all. Cultures clashed, and nerves ran high, but as uneasiness turned into trust, music soared into the night and gratitude grew into enduring friendships.
The production features a book, music and lyrics by Irene Sankoff and David Hein and is directed by Christopher Ashley.
Meet the cast
Jenna Boyd stars as Beulah and others, Nathanael Campbell as Bob and others, Clive Carter as Claude and others and Mary Doherty as Bonnie and others.
Robert Hands plays Nick, Doug and others, Helen Hobson stars as Diane and others and Jonathan Andrew Hume will play Kevin J, Ali and others.
The rest of the main cast is made up by Harry Morrison as Oz and others, Emma Salvo as Janice and others, David Thaxton as Kevin T, Garth and others, Cat Simmons as Hannah and others and Rachel Tucker as Beverley, Annette and others.