Virgin Voyages' Valiant Lady, the cruise line's second ship in its ladyship series, will set sail from Portsmouth in March 2022.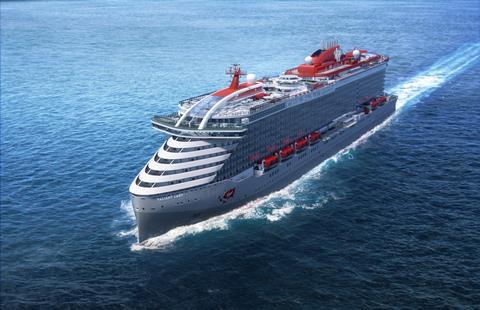 Valiant Lady will head out from the UK and set sail during spring and summer to a handful of islands and cities in Europe, with late-night and overnight stays in Málaga, Palma de Mallorca, the Canary Islands, Lisbon and Belgium.
The ship will sail on a series of three new itineraries, including a mix of three-night, 11-night and 12-night voyages:
Coast the Canary Islands, Spain and Portugal – an 11-night voyage setting sail from Portsmouth, UK, with stops in La Coruña, Funchal, Santa Cruz de Tenerife, Gran Canaria and Lisbon.

Long Weekender in Zeebrugge – a three-night cruise from Portsmouth, UK, to Zeebrugge (Bruges), with time to explore the historic seaside town.

Late Nights in Portugal and Spain – a one-way, 12-night sailing from Portsmouth, UK, to Valiant Lady's homeport in Barcelona, stopping in La Coruña, Lisbon, Cádiz, Gibraltar, Málaga and Palma de Mallorca along the way.
Facilities on board include unlimited access to 20 restaurants and eateries, plus group fitness classes, free WiFi and tips covered in the fare. The ship's layout and venues are identical to those on the cruise line's sister ship, Scarlett Lady, with some "Virgin twists", said Virgin Voyages associate vice president (UK & Australia) Shane Lewis-Riley on social media.
Valiant Lady is the second of four cruise ships ordered by Virgin Voyages' inaugural cruise fleet. According to Watson Farley & Williams (WFW), who advised on the delivery of the ship from renowned Italian shipyard Fincantieri, each vessel has a capacity of around 2,850 passengers and weighs an impressive 110,000 tonnes.
WFH chairman Nigel Thomas said: "The Virgin team have worked so hard to overcome the extraordinary challenges of these last nearly 18 months of delays and uncertainty and have produced a fantastic product for the cruise sector.
"This is very exciting news for the industry which is finally seeing the commencement of a return to passenger-carrying cruises."
The ship features a striking mermaid at its helm, created by artist Hillary Wilson, which is said to encompass the energy of a woman "moving confidently forward toward her dreams".
Both Valiant Lady and Scarlet Lady are involved in the company's 'Scarlet Squad' programme which aims to recruit and mentor female cruise staff, particularly in leadership roles in areas such as marine, technical and hotel management. You can read more about the programme here.
Groups booking ten or more cabins qualify as a 'Circle' booking and benefit from an extra 10% off the total package cost and free on board credit called 'Sailor Loot'. Visit VirginVoyages.com or call 0344 472 1422 for more details.