Jeff Wayne's musical version of The War of The Worlds - Alive on Stage! returns to arenas across the UK in 2022, with a star-studded line-up including a professional Strictly Come Dancing dancer and two pop stars announced in its cast.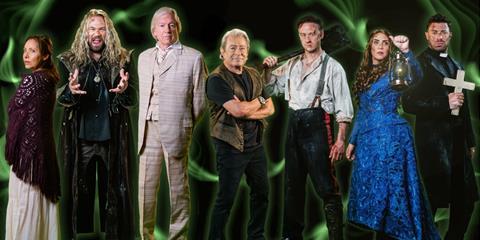 Up to 12 touring trucks will help transport the huge show to arenas across the UK, with producers promising new special effects to help bring the classic tale by HG Wells to life once more.
Strictly Come Dancing and stage performer Kevin Clifton will play The Artilleryman, Blue's Duncan James will star as Parson Nathaniel, plus Steps' and stage star Claire Richards plays Beth, The Parson's Wife.
The trio are joined by Nathan James as The Voice of Humanity, Anna-Marie Wayne as Carrie, The Journalist's fiancée and Justin Hayward will reprise his original role as The Journalist.
Some of the venues featured on the 2022 run include Nottingham Motorpoint Arena (23rd March), Brighton Centre (27th-28th March), Manchester AO Arena (1st April), Leeds First Direct Arena (3rd April) and London's O2 Arena (9th April).
Some of the special effects to look out for at the show:
A three-tonne, 30-foot-tall Martian Fighting Machine firing real-flame heat rays.
A giant bridge from the lip of the stage out and over the audience.
Three panoramic screens featuring more than two hours of CGI & Video
The levitation of Beth, Parson Nathaniel's wife.
Kevin Clifton said: "I am unbelievably excited to be joining the cast of Jeff Wayne's The War of The Worlds. In 2022 this particular story could not be more relevant. After so long without live performance, what better experience could there be than this spectacular arena production complete with a full live onstage orchestra and special effects."
Claire Richards said: "To be a part of such an iconic production is so exciting and I'm really looking forward to getting back out on the road next year." Duncan James added: "I have always been a fan of Jeff Wayne and to get to work with such a legend is a dream come true."