Andrew Lloyd Webber and Cameron Mackintosh have announced that the original production of The Phantom of the Opera will tour venues across the UK and Ireland in 2020.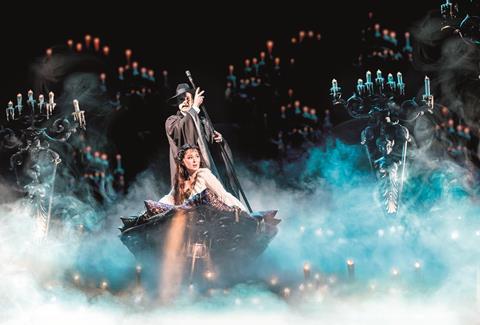 The production will begin its run at Leicester's Curve Theatre on 24th February, before travelling to Manchester, Dublin, Birmingham and Edinburgh.
Casting announcements and further cities for the performance will be announced at a later date.
More than 145 million people in 41 countries and 183 cities have seen the show, having also been performed in 17 different languages around the globe.
It has won more than 70 major theatre awards too, including seven Tony Awards and four Olivier Awards.
About the show
The musical tells the tale of a disfigured musical genius known only as The Phantom, who haunts the depths of the Paris Opera House.
Mesmerised by the talents and beauty of a young soprano – Christine, the Phantom lures her as his protégé and falls fiercely in love with her. Unaware of Christine's love for Raoul, the Phantom's obsession sets the scene for a dramatic turn of events where jealousy, madness and passions collide.
Featuring music written by Andrew Lloyd Webber, the classic production follows a range of themes combining horror with romance.
The score includes Music of the Night, All I Ask of You, Masquerade and the iconic title song.
The show is currently performing in London at Her Majesty's Theatre, New York, Prague and Sao Paulo, as well as being on tour in the US and Asia.
30 years on both sides of the Atlantic
The show is now in its 33rd year on the West End stage and celebrated 30 years on Broadway in January last year.
In October 2011 the London production celebrated its 25th anniversary with a special staging of The Phantom of the Opera at the Royal Albert Hall which was screened live in cinemas all over the world and subsequently released on DVD.
Then in 2016 the London show marked its 30th anniversary with a special gala performance at Her Majesty's Theatre.