Mother Goose, starring Sir Ian McKellen and John Bishop, will travel across the UK and Ireland on tour, once its London run at the Duke of York's Theatre comes to an end.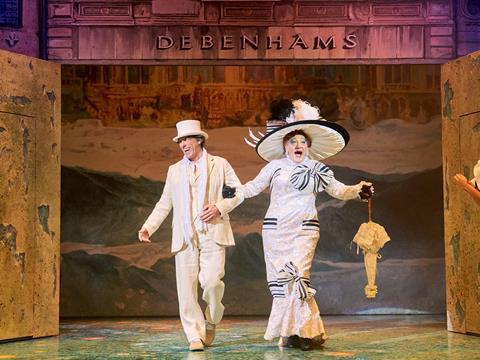 The full touring dates have been confirmed, opening at Chichester Festival Theatre on 7th February once it closes in London on 29th January. The production will travel to Sheffield, Wolverhampton, Liverpool, Oxford, Leicester, Dublin, Cardiff and Salford, before closing at Bristol Hippodrome on 15th April.
Alongside McKellen as Mother Goose and Bishop as Vic Goose, Mother Goose also stars Anna-Jane Casey as Cilla The Goose, Oscar Conlon-Morrey as Jack, Simbi Akande as Jill, Sharon Ballard as Good Fairy Encanta and Karen Mavundukure as Evil Fairy Malignia.
The cast is completed by Mairi Barclay, Adam Brown, Gabriel Fleary, Becca Francis, Shailan Gohil, Richard Leeming, Genevieve Nicole and Laura Tyrer. Group rates are venue specific.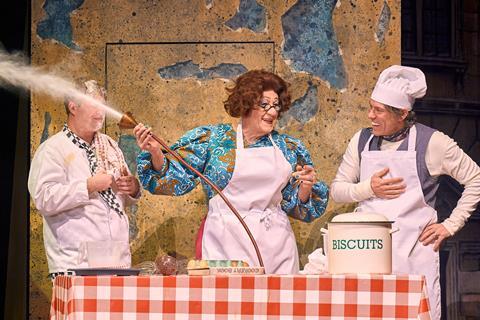 About the show
Mother Goose and her husband Vic run an Animal Sanctuary for waifs and strays and live a wholesome life inside an abandoned Debenhams store. But when a goose flies in, will fame and fortune get the better of them?
Described as the "mother of all pantos", it's said that audiences can expect the ultimate theatrical feast full of fun, farce and more than a couple of surprises along the way.
The show is written by Jonathan Harvey (Coronation Street, Gimme Gimme Gimme) and directed by award-winning director Cal McCrystal.
Set and costume design is by Liz Ascroft, choreography by Lizzi Gee and puppet design and creation by Chris Barlow.
Full touring dates are:
Chichester Festival Theatre: Tuesday 7th February – Saturday 11th February
Sheffield Lyceum: Tuesday 14th February – Saturday 18th February
Wolverhampton Grand Theatre: Wednesday 22nd February – Sunday 26th February
Liverpool Empire: Tuesday 28th February – Saturday 4th March
Oxford, New Theatre: Tuesday 7th March – Saturday 11th March
Leicester Curve Theatre: Wednesday 15th March – Saturday 18th March
Dublin, Bord Gáis Energy Theatre: Wednesday 22nd March – Sunday 26th March
Cardiff Wales Millennium Centre: Tuesday 28th March – Saturday 1st April
Salford, The Lowry: Wednesday 5th April – Sunday 9th April
Bristol Hippodrome: Tuesday 11th April – Saturday 15th April