Mischief Theatre has announced a new national tour of its hilarious Peter Pan Goes Wrong, a comical performance that will visit London's Alexandra Palace on its run.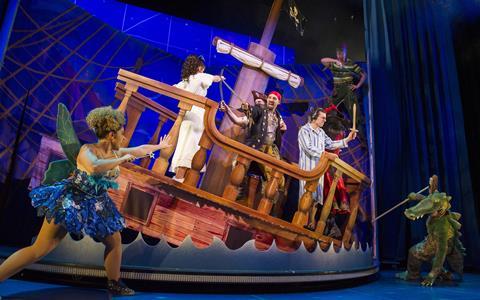 Co-written by Mischief Theatre's company members Henry Lewis, Jonathan Sayer and Harry Shields, the production follows 'Cornley Polytechnic Drama Society' as they try to perform J.M Barrie's tale.
As they struggle to deal with technical hitches, flying mishaps and cast disputes, the drama unfolds as the cast take to the stage and stick to the old phrase - the show must go on.
Kenny Wax, producer said: "We are going to do it again and again and again until the cast finally get it right."
About Mischief Theatre:
Mischief Theatre was founded in 2008 by graduates of The London Academy of Music and Dramatic Art (LAMDA).
The company have already had great success in the West End and internationally, known for their slapstick comedy performances including The Comedy About A Bank Robbery, The Play That Goes Wrong and Magic Goes Wrong.
Filming recently began for Mischief Theatre's six-part television series for BBC One, The Goes Wrong Show. Broadcast dates are yet to be announced.
Full dates of the tour:
Everyman Theatre, Cheltenham: 19th October - 2nd November
New Theatre, Cardiff: 5th - 10th November
Arts Theatre, Cambridge: 12th -16th November
Theatre Royal, Brighton: 19th - 24th November
Theatre Royal, Bath: 26th November - 1st December
The Lowry, Salford Quays: 3rd - 7th December
Alexandra Palace Theatre, London: 13th December - 5th January, 2020
New Victoria Theatre, Woking: 14th - 18th January, 2020
Storyhouse, Chester: 21st - 26th January, 2020
Lyceum Theatre, Sheffield: 28th January - 1st February, 2020
Milton Keynes Theatre: 4th - 8th February, 2020
Festival Theatre, Edinburgh: 11th -16th February, 2020