Tickets for the London Art Fair are now on sale, with a programmes of talks and tours soon to be announced, ahead of its return to the city from 19th - 23rd January 2022.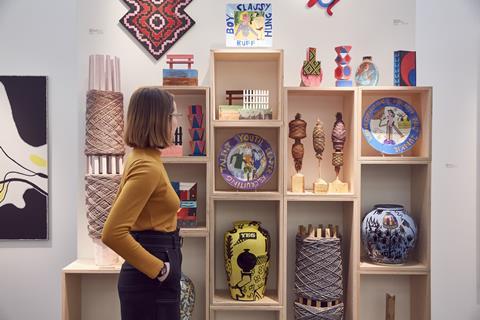 The London Art Fair returns to the Business Design Centre in Islington for its year from 19th - 23rd January to launch the international art calendar for 2022 with over 100 exhibiting galleries taking part.
The Fair connects both seasoned and aspiring collectors and art enthusiasts with the best galleries from around the world and provides the opportunity to discover modern and contemporary art, from prints and editions to major works by internationally renowned artists from the 20th century to present day.
In addition to a variety of talks and events available throughout the week, the Fair will offer a number of curated spaces including:
• Platform: The Fair's curated section Platform features well-known and emerging artists whose work aligns to a distinct theme. For 2022, Platform will explore the theme of Music and its part in contemporary visual art and look at the range of music inspired by visual art being made today.
• Photo50: Photo50 is the Fair's annual exhibition of contemporary photography and will be curated by art historian and curator Rodrigo Orrantia. No Place is an Island presents a selection of works by British and UK-based artists, interested in questioning the idea of an island and the associated concepts of isolation and isolationism. This exhibition examines what it means to be an island in the contemporary moment.
• Art Projects: Art Projects returns for its 18th edition at the Fair to showcase the freshest contemporary art from across the globe. Art critic Pryle Behrman will introduce this section and visitors can expect a programme of collaborative video and new media initiatives.
The London Art Fair was launched in 1989 with 36 UK galleries, some of whom still exhibit at the Fair today, and has grown steadily over the years. The Business Design Centre on Upper Street in Islington can accommodate coach drop-offs by prior arrangement. The venue is also well-connected to public transport links, with Angel Underground station a five-minute walk away.