Hillsborough Castle and Gardens in Northern Ireland has reopened to the public after a five-year transformation project.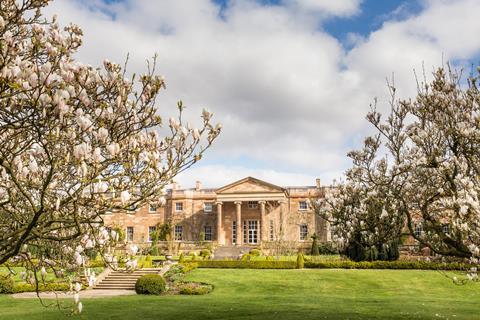 The County Down attraction has been transformed by Historic Royal Palaces as part of a five-year project and £24 million investment, supported by the National Lottery Heritage Fund.
Groups will be greeted by a new visitors centre, cafe and shop as well as other new additions around the site such as learning facilities and new access.
Visitors wishing to discover the Castle's rich history will now be able to explore the re-presented State Rooms on guided tours led by the Castle's experts, plus new decorative schemes and artworks are displayed reflecting the tales that the estate has to offer.
There's also a new lecture, currently running, the Brunchtime Lecture: Upcycling Irish Mythology which focuses on the tradition of Irish mythology and its changing narratives and forms.
The conservation of the Courthouse clock is one of the many developments at the attraction. The clock is a landmark on the Hillsborough estate, and forms part of the Georgian Couthouse which was built in the late 1700s.
David Orr, conservator at Hillsborough Castle and Gardens, commented: "The Courthouse clock is intrinsically linked to the history of Hillsborough Castle and Gardens. We have worked with a dedicated team of experts across Northern Ireland and England for the last four months to restore this beautiful and rare timepiece; from clock conservationists, to gilding experts who added the delicate touches to the clock face."
Hillsborough Castle & Gardens for groups
Groups of 15 or more can enjoy special rates when visiting. You can also book a combined castle and garden tour.
GTOs can call 020-3166 6000 or email booking.confirmations@hrp.org.uk for more details.
For more information, visit hrp.org.uk/hillsborough-castle.