Were you at the Group Leisure & Travel Show this year? Relive the highlights in the special Video Review of the 2018 exhibition.
The 2018 exhibition was another success, with both visitors and exhibitors describing it as "great for ideas" and "extremely helpful".
Held at Hall 19 of the NEC in Birmingham on Thursday 11th October, the show saw more than 200 exhibitors from the group travel industry and coach tourism sector come together to showcase what they offer to group travel organisers.
Celebrity speakers
Travel expert Simon Calder, who was one of the three celebrity speakers at this year's event, described the show as "really interesting", adding: "You get the whole spectrum – GTOS doing great things in the UK and abroad to visitor attractions, destinations and hotels.
"It's an atmosphere that's very warm, very friendly and it's great for networking and doing deals and to see what the opposition is doing."
Inspiration and deals
GTOs and coach operators were able to meet and speak to a varied range of exhibitors from destinations, accommodation providers, tour operators, cruise lines and theatre productions. Deals were done, dates were penned into diaries and GTOs walked away with inspiration for at least another year of group trips and holidays.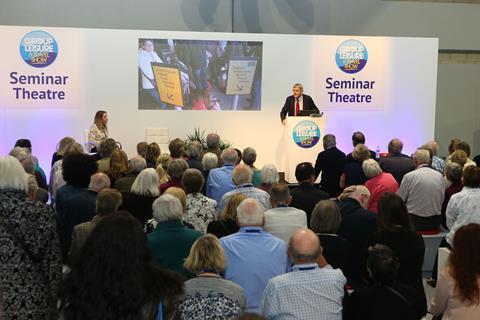 Show Director Graham Yandell said: "It's always a privilege and a pleasure to bring people together at this event. Once again we've had a hugely successful day and I would like to thank the visitors who attended and our exhibitors who did such a fantastic job helping us put together the group travel sector's leading show."
The 2019 Group Leisure & Travel Show

The Group Leisure & Travel Show 2019 will take place at a new venue on Thursday 10th October next year at Stadium MK, Milton Keynes.

Organisers say there has already been a "fantastic response" to announced new venue for 2019 with almost 40 per cent of stands already booked.

The black-tie Group Leisure & Travel Awards dinner will be staged the previous evening on Wednesday 9th October, 2019 at the Hilton Hotel, which is immediately adjacent to the stadium and halls.

Stand bookings for the 2019 show and Awards partnerships for the next promotion can be made by contacting Sharon Yandell on 01908 613323 or by emailing sharon.y@yandellmedia.com.
The message is book early, as both events are set to be a complete sell-out.