Grump Group Organiser talks about the demise of acceptable dress codes and lying flat on an Economy flight.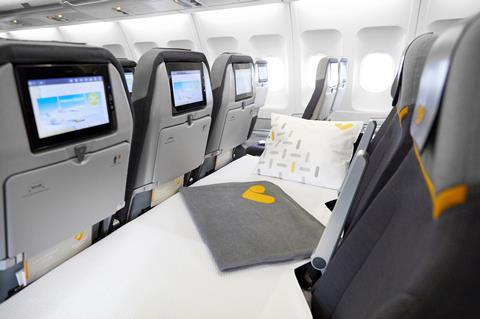 Scruffy, not casual
People's dress code standards appear to be falling down to the bottom of a very deep, dark hole. Society is becoming more casual; I don't like it but I accept it. The fact that we're not wearing a collar and tie to the beach is a good thing. But there are times and places where making a little effort enhances your own experience and of those around you.
I now go to nice restaurants and often see people wearing trainers. I visit the theatre and at times it's not casual, it's plain scruffy. I even went to a wedding recently and some guests were wearing jeans and an open neck shirt.
Striking a balance is important, but too many venues let their patrons down by turning a blind eye to deteriorating dress code standards and downgrading the overall experience for others.
Lie back and sleep on a mattress as you fly… Economy
If anyone in your group prefers their own space while flying, there's a new but rather absurd option with Thomas Cook Airlines when travelling long-haul.
You can now upgrade to its Sleeper Seat on selected flights which, in a nut shell, means throwing a mattress across a row of three once airborne so you can lie back and think of England.
You get a pillow, fitted sheet, head rest, blanket and amenity kit for your trouble… and additional charge, but Business Class this isn't. What happens if you're tall? Won't the trolley bash your feet as the cabin crew push the latest duty free deals down the aisles?
Before you ask, yes you do have to eat your meals sat upright in your seat and not lying down. Where's the fun in that? You can also choose to swap your bed with others during the flight. Perhaps as the group organiser you could create a rota.
I applaud innovation, but I did think this story had been released in error. It's something you would expect to read on 1st April.
The world's most expensive cities
For the first time, three places share the enviable title of the world's most expensive city. Paris, Hong Kong and Singapore are going to drain your bank account fast.
The annual Economist Intelligence Unit Survey (sounds serious) compares 160 items including things that affect tourists such as food and drink. The world's ten cheapest cities included Caracas in Venezuela, Damascus in Syria and Lagos in Nigeria. Luckily, they are some way down my Bucket List.
But I have organised trips to both Paris and Hong Kong and as a group, booked through a specialist operator, we've been able to have a great time without breaking the bank. It's not always cheaper to do it yourself when you consider everything that's included and the fact is as GTOs we do most of the legwork! Remember these important facts

He's been a group travel organiser for more than 30 years, travelling the UK and the globe, experiencing much frustration along the way.