The European river cruise operator has announced that it will increase its capacity to four ships on the Rhône next year, allowing them to offer additional cruises along the river.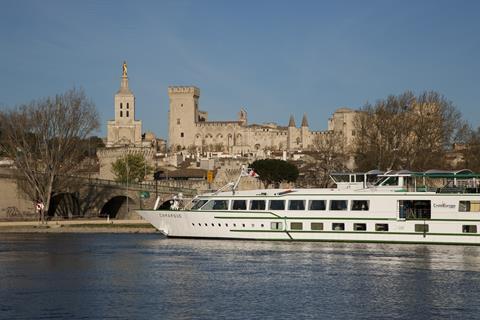 The additional ship, the Rhône Princesse with join three already in operation, MS Mistral, MS Camargue and MS Van Gogh, with effect from April.
Itineraries across the four ships will include seven and eight-day round-trips from Lyon with stops in iconic cities including Lyon, Avignon, Martigues, Port St Louis, Tain l'Hermitage, Viviers and Arles.
A highlight among the new itineraries will be the exclusive 'gourmet' schedule, which will take groups on voyages through France's gastronomic capital with a focus on the region's food and wine.
John Fair, CroisiEurope's UK sales director, said: "We're delighted that the Rhône is growing in popularity but we're not surprised. Our Rhône cruises travel through some of the most beautiful and best preserved landscapes in France.
"With visits to world class vineyards, ancient walled towns and France's gastronomic capital, Lyon, a Rhône cruise really does offer something for everyone"
Gabrielle Alam, CroisiEurope's head of UK sales and marketing, added: "The new seven-day gourmet cruise is exciting as it includes a number of really interesting food-related excursions which are complemented by the fabulous food served onboard. It is definitely a cruise that gourmands will love."
Selected 2019 Rhône cruises
The Saône, the Rhône, the Camargue and the gateway to Provence: This seven-day port-to-port cruise will take groups from Lyon to Martigues, with optional excursions including a bike ride through Lyon, a guided tour of Avignon and a safari through the Camargue, among others.
The Valleys of the Rhône and Saône: Gastronomy and vineyards: Groups travelling on this five-day gastronomy cruise will journey through the Rhône Valley, enjoy wine tasting in vineyards and experience dinner at the Abbey of Collonges.
Group offerings:
Discounts available for groups of 20 or more. In addition, groups booking on a seven-day Rhône Cruise on the Rhône Princesse will receive a complimentary dinner at the Paul Bocuse restaurant at Collonges-au-Mont-d'Or.
For more information, visit www.croisieurope.co.uk.
Image: Sailing on the Rhone (Photo Credit: CroisiEurope)