The Royal Horticultural Society (RHS) has unveiled its spring programme with highlights including a Celebration of Snowdrops at RHS Garden Rosemoor and a Cherry Blossom display at RHS Garden Wisley.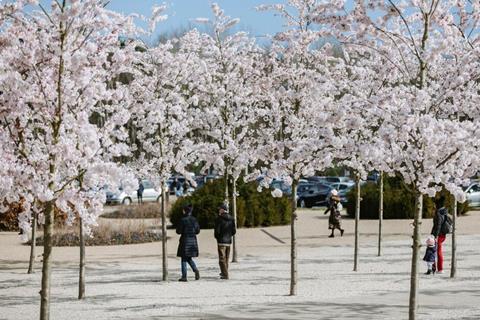 Visitors can experience a selection of walks, talks and exhibitions that shine a light on the work that goes into designing and maintaining gardens at scale across the country, including RHS Garden Bridgewater in Greater Manchester, RHS Garden Harlow Carr in North Yorkshire, RHS Garden Hyde Hall in Essex, RHS Garden Rosemoor in Devon and RHS Garden Wisley in Surrey.
Highlights include:
RHS Garden Wisley: Under Your Feet, 29th January - 27th February. The estate's iconic Glasshouse contains a giant installation of an exposed tree root, with interactive elements providing information about what goes on under our feet. In the Glasshouse gallery, wander through a large-scale replica of vegetable roots, making you feel as though you have shrunk and are in the soil looking at the roots and worms.
RHS Garden Hyde Hall: Woodland Wellbeing Walks, every Tuesday in February. Learn more about the ongoing work and ever-changing landscape of the Essex garden on a guided tour of the estate.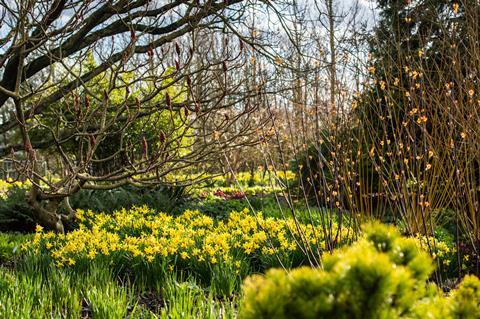 RHS Garden Rosemoor: Celebration of Snowdrops, 1st - 13th February. Discover drifts of snowdrops throughout the garden with a series of guided walks and a trail for children.
RHS Garden Wisley: Cherry Blossom, 21st - 27th March. Wander around the estate while it is transformed with the arrival of pink and white cherry blossom.
RHS Garden Harlow Carr: BAMM North Mosaic exhibition, 24th March - 17th April. Discover this specialist art form in a new way, as the British Association for Modern Mosaic (BAMM) showcases pieces inspired by a connection to nature, created using an infinite range of materials.
RHS Garden Bridgewater: Middlewood Scouts exhibition, 18th February - 22nd May. In the 1940s the Scouting Association established a camp on the site of RHS Garden Bridgewater that was to become the go-to destination for scouts and guides locally and internationally. This exhibition celebrates the importance of the camp, known as Middlewood, through a collection of images and memories from over seven decades.
For full listings and group benefits including discounted rates for ten or more people, visit www.rhs.org.uk/gardens.