Mind-boggling reviews about The Shard in London, getting into the festive spirit and more from our regular columnist.
Head in the clouds
I often read things that leave my faith in the human race hanging by a thread. This latest example of the brainless invading our lives is a real cracker. The Shard in London. You know, that tall building that looks down on the capital like a smug older sibling. It's apparently too high for some who have taken to TripAdvisor to pan the attraction for delivering on its promise. One reviewer said it was "too high for good pictures" while another said "I didn't look at the view – too high."
Perhaps they were mis-sold when it was explained that the viewing platform takes you all the way to level 72 for 360-degree panoramic views of up to 40 miles. It's 800-feet above the city and the elevators move at six metres per second for crying out loud. The viewing platform attraction is called The View from The Shard. You look out over the Houses of Parliament, Tower Bridge and the Tower of London in a way only comparable with flying in an aeroplane. It's incredible.
And so is the stupidity of some people who should be banned from sharing their inane views with the rest of us. Head in the clouds? More like up their own… and the height of ignorance.
Getting into the festive flow
Christmas 2020 was like many festive number one singles – a bit rubbish. So news of the Covid-19 Omicron variant was as welcome as syphilis. Before the lights went up, panic had set in but I have decided to keep calm and carry on. I'm not going to go around licking lamp posts but I am going to continue with social engagements with people I like. For those I don't I have the best of excuses.
I've had a chat with my group and we're all set with our Covid passes, we've had our boosters (or have one booked), boast an array of masks and face coverings, and will take a lateral flow test before our trips and gatherings. Because, let's face it, that's the only way we can continue at the moment, isn't it? To take precautions and be sensible, although a large proportion of the population seem to struggle with the latter. There's no supply issue when it comes to ignorance.
So I hope you enjoy the festive season, avoid repeats of Mrs Brown's Boys and stay safe.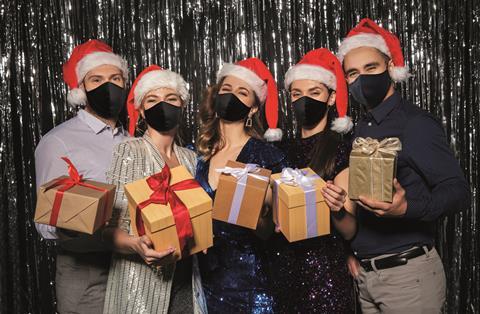 Is Meta better? I prefer the real thing
There's a chap by the name of Mark Zuckerberg, you may have heard of him. He's the co-founder and CEO of Facebook, that thing that pulls you into your phone like a 100-foot magnet. He's got a few quid has Mark but he's an ambitious lad and recently announced a huge corporate re-branding to link in with his obsession for the so-called 'Metaverse'. This is all about the concept of virtual reality slowly invading our lives so we can enjoy places and activities while sat at home in our pyjamas.
Well, thanks Mark but I've had enough of that over the past two years, so it's hats off to Visit Iceland for pushing back. In a brilliant video parody, 'Chief Visionary Officer' Zack Mossbergsson says: "Today, I want to talk about a revolutionary approach on how to connect our world, without being super weird. Some said it's not possible. Some said it's out of reach." In front of a window looking out on a snowy Icelandic landscape he continued:
"To them, we say 'it's already here'… and what do we call this not-so-new chapter in human connectivity? The Icelandverse."
I want to have experiences for real and have no desire to be a part of a world that entertains itself in isolation with a large headset on. Oh, and Iceland is a fantastic place to visit.

Our popular regular columnist has been a group travel organiser for more than 30 years, travelling the UK and the globe, experiencing much frustration along the way.