Visitors to Hever Castle have the chance to see posters and costumes from films the attraction has appeared in as part of a new temporary exhibition.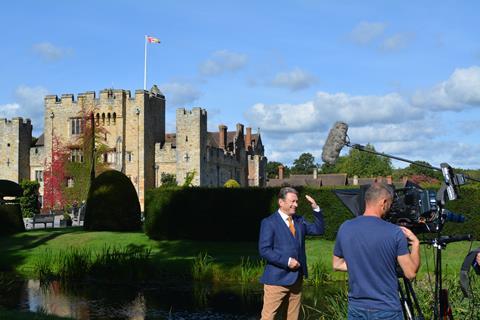 The Hever Castle on Stage and Screen Exhibition opened on Monday 13th May ahead of the anniversary of Anne Boleyn's exhibition (Sunday 19th May) and runs until November in the Castle's Moat Room (not usually open to the public). It will be included as part of Castle and Garden admission at the attraction in Kent.
Two dresses from the film Anne of the Thousand Days, which celebrates its 50th anniversary this year, and a sword dredged from the moat after filming for The Passionate Pilgrim starring Eric Morecambe and Tom Baker, are among the items on display. Clips from the films are also shown as part of the exhibition.
The story of the mysterious La Peregrina Pearl is available for visitors to explore as part of the new exhibition with a replica on display. Bought by actor Richard Burton for Elizabeth Taylor during their first marriage, the $11millon dollar pearl was seen on screen for the first time at Hever Castle when Taylor played a cameo role in Anne of the Thousand Days (1969), having been rejected for the coveted part of Anne Boleyn.
During its visit to Hever, the pearl was briefly reunited with two Hever portraits which depict it being worn on the Queens who once owned it: Mary I and Elizabeth de Valois.
What else is on display
Tom Baker's sword from the short film The Passionate Pilgrim - during the filming of a sword fight on Hever Castle's drawbridge for the 1984 film, Baker lost grip of his sword and it tumbled into the moat. Almost 30 years later, when the castle's moat was drained Baker's sword was discovered poking out of the silt, it is displayed for the first time at Hever.
Photographs from an opera about Thomas Boleyn performed for the previous owners, the Astors in 1972 are also on display. The opera was written and composed by Timothy Higgs when he worked for the Astors. His son, Jonathan Higgs now works as a Castle supervisor.
Images from some of the TV programmes Hever Castle has appeared in are also available to see.
Group visits to Hever
There are a selection of experiences and packages for groups on offer at the castle. Discover the award-winning gardens set in 125 acres of grounds, admire the giant topiary chess set in the Tudor Garden and inhale the fragrance of more than 4,000 rose bushes in the quintessential English Rose Garden.
Various benefits are available including discounted admission rates, free parking, easy drop-off and pick-up for coaches (prior arrangement only) and special group menus.