Find out what's new, where's best to go with a coach group, and get tips from the experts with the 2023 Coaching Venues & Excursions Guide.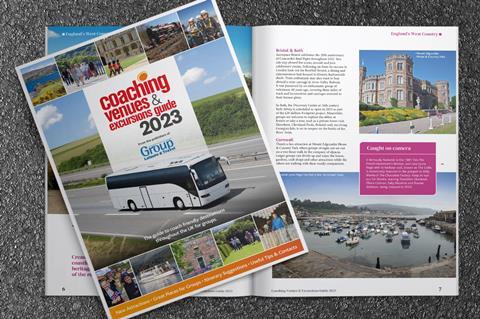 Produced and published by the team at Group Leisure & Travel, the new publication is now available in print and as an online digital edition that can be read via desktop, tablet and mobile.
There's something for all the counties in England, as well as the best places to visit in Wales, Scotland and Ireland.
Robert Shaw, the chair of the Coach Tourism Association, who wrote the foreword for this year's guide, covered some of the benefits of travelling by coach. He said: "For some travellers, the rise in fuel prices is significantly increasing cost. Of course, coach operators aren't immune, but the efficiency of multiple passenger travel is enabling coach operators to continue to provide extremely affordable value."
The 2023 Coaching Venues & Excursions Guide (CVEG) also offers inspiration and excursion ideas to suit a range of budgets, suggestions for locations with links to different interests, and accommodation options.
Hear from expert Blue Badge Guides
Itinerary examples and advice from Blue Badge guides adds to what the publication has to offer those organising coach groups, from group travel organisers to operators themselves.
CVEG editor, Keeley Rodgers said: "The information from the Blue Badge Guides is always a good read and reminds us why using one as part of a group trip can really enhance a tour of a particular area."
In the 'England's North Country' section in CVEG 2023, Tess Pike, a Cumbria Blue Badge Guide looks at following in the footsteps of Scottish-born priest, Thomas West. He published a book called A Guide to the Lakes back in in 1778 when the English Lake District was widely unknown. Tess explained: "Now, 245 years later, we can still say that following in his footsteps provides an ideal way to discover some of the very best views in the Lake District. West identified a select number of dramatic spots from which to view the diverse landscapes of the Lake District, taking in all of the major lakes."
You can find out more about how to explore the best of the Lake District, as well as other favourites and lesser-known places throughout Britain and Ireland by reading the Coaching Venues & Excursions Guide 2023.