In this special edition of My Group & I, we asked Elizabeth Hodgson, 2021 Group Travel Organiser of the Year®, how it felt to win the award, her time organising for Barnet U3A and historical highlights on her travels.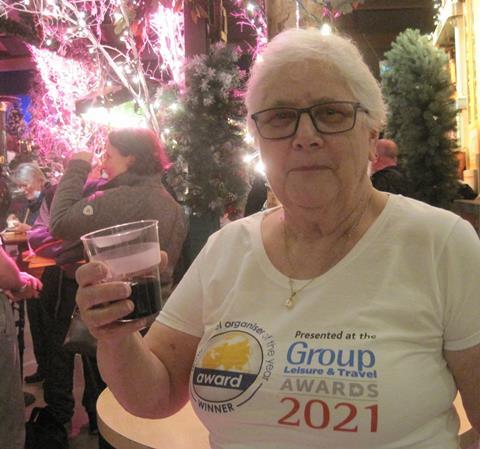 Elizabeth's group at a glance…
Group Name: Barnet U3A
No. of members: 1,600+
Time organising: 13 years
What was your initial reaction when you found out you were this year's winner?
I honestly didn't expect to win but I was extremely delighted to accept the award. It's been a really tough time and I appreciate all the work that group organisers put in. I was really chuffed! Immediately it flashes through your mind whether to do an Oscar speech where you thank everyone and burst into tears, but I fell a bit short of that.
How have your group members reacted to the news?
They've been very enthusiastic and I've had some lovely messages. Any time I go anywhere at the moment, I have at least one person come up to me and say congratulations. I think they appreciate what I've done for them over the years, it has been challenging at times, particularly with Covid, but I always like to push that little bit further and get the best deal I can for my group.
You're now part of an eclectic group of organisers under the GTO of the Year® title, how do you think it will help you in the future?
Obviously it will make a difference. I've always worked on the basis that if you don't ask, you don't get and this is why we've always had good working relationships with people. I'm normally quite modest but I may have to blow my own trumpet from time to time. I've had t-shirts printed with the winner logo on them. Whenever I go anywhere, I plan to have it on discretely underneath something so if I have any problems, I will let them know who they're dealing with!
You must have built up quite a selection of 'must-visit' places for your group over the years… what are your highlights?
There's a vast range of recommendable places that we have seen and it's very hard to single anything out. Cardiff Castle was excellent and Brick Lane Music Hall is always popular. We've been to Thursford Christmas Spectacular this year and that was a real feel-good visit and felt even better particularly after this time last year.
We've done cruises along the Thames before which have always been popular and we've done a lot of stately homes by working with Invitation to View which is now under the umbrella Historic Houses. People like those because it's usually just us who go in for an exclusive opening for our group.
Is there anything particularly memorable from your travels?
We organised a World War One anniversary trip where the highlight was attending the remembrance ceremony at the Menin Gate in Ypres, Belgium. I asked if we could lay a wreath on behalf of Barnet U3A but I did not expect to be part of the ceremony itself. Two of the group accompanied me and we assembled with the dignitaries and the senior officers of the Regiment who were taking part that day.
It was only after I returned home that I discovered my great-uncle's name was on that same memorial and he served with the London Scottish. I contacted the London Scottish Headquarters and they invited me in to help fill some of the gaps. I was able to give them a photo of my great-uncle in his uniform which was only found after his death and they showed me the bugle that accompanied him into battle – very damaged and scarred, but a survivor.
What would you say is the best thing about being a group organiser?
I get great satisfaction when people approach me and immediately want to book things. People put so much trust in me and put their names down on a trip list without knowing exactly what we're going to be doing, as well as the itinerary or the price.
What do you think your members would say if we asked them to describe you?
One person did turn around to me once and said 'your enthusiasm is infectious' which I thought was rather nice. I would have difficulty encouraging my members to come along on a trip if I didn't have confidence or believe in it.
Group Travel Organiser of the Year Award®
This award recognises group travel organisers for the positive impact they have on the lives of friends, family, colleagues or the community. It comes with a £2,000 prize to spend on a holiday. For more information about the awards, visit groupleisureandtravel.com/awards