GLT editor Keeley Rodgers reports back on the official all-star red carpet launch of the new Hard Rock Cafe Piccadilly Circus.
Where else would you bump into Gloria Hunniford, Slipknot's Sid Wilson and more Love Island stars than you can imagine? The grand opening of the Hard Rock Cafe Piccadilly Circus of course.
Think rock stars, celebrities along with a feast of fantastic food and drink - yes, I know, it's a tough job (but somebody's got to do it).
The evening began in style, of course, with Hard Rock executives, fans and partners arriving on an open-top bus from the original Hard Rock Cafe in Old Park Lane, escorted by a convoy of Harley Davidson riders. Now you may expect a traditional ribbon-cutting at an official launch but, as I discovered, Hard Rock have a twist on everything. It was a Fender 'Guitar Smash' led by presenter and TV judge Matt Spracklen which kicked off the party (but don't worry, no new guitars were harmed in the celebration).
There was no shortage of stars for photographs to snap but centre of many of the pictures was the wonderful Rita Gilligan, Hard Rock's longest-serving waitress of 48 years.
The glitz and glamour was a start of what was to follow as we got a taste of Hard Rock's recently debuted new menus and signature cocktails including my personal favourites, the Legendary Burger sliders and the House-Infused Gin & Tonic.
And if that wasn't enough, we were treated to an exclusive performance from Keane, ahead of their sold-out UK tour. It's no wonder that the team, who had worked so hard to make everything happen, were pleased with how the evening went. Stephen K. Judge, president of cafe operations for Hard Rock International, said: "We could not be more thrilled to celebrate the opening of our flagship location in Europe with a launch party that certainly lived up to our 48-year legacy."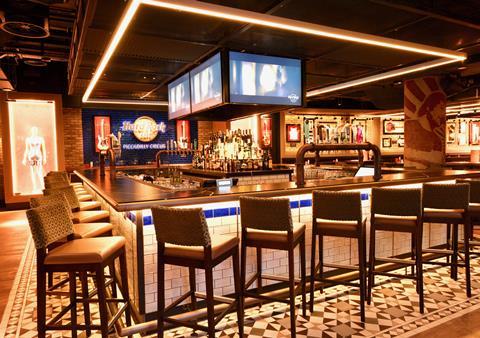 About the Cafe
Hard Rock's new European flagship cafe is just as impressive as its launch party. As well as boasting the world's largest Rock Shop, there's a host of never-seen-before memorabilia from contemporary artists such as Rihanna and Ed Sheeran, alongside classic items from artists including Freddie Mercury, David Bowie and George Michael.
"Keep your eyes peeled for some of the fantastic food and drinks, merchandise, music and events we have planned for this new location."

Stephen K. Judge, president of cafe operations for Hard Rock International
The digital ceiling is pretty spectacular too and the 320-seater restaurant features an open kitchen with a stone pizza oven and milkshake station.
A private events room is available for groups of up to 40 and the main dining room features a stage for group entertainment experiences.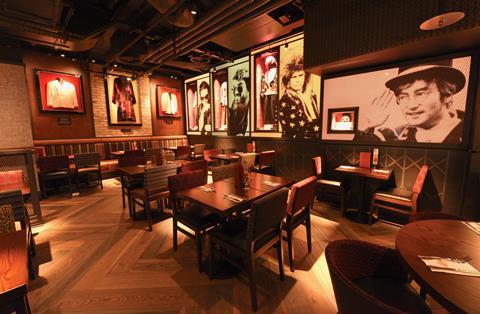 The menu features Hard Rock's authentic American food and drink with a new twist including Tomahawk Steak, BBQ Chicken and Pink Piccadilly Pimms.