We look at why groups travelling to Denmark should visit the capital, Copenhagen and where to look for group deals.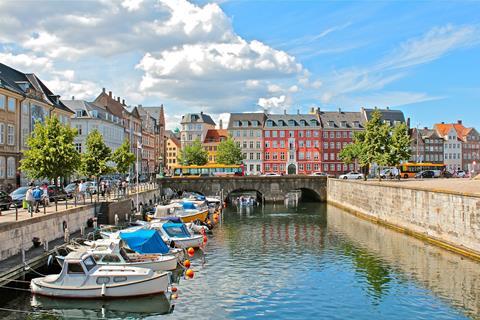 Travel authority, Lonely Planet, has named Copenhagen as the 'world's top city for travellers in 2019' in its new guide Best in Travel 2019. Described by Lonely Planet as a centre for Scandinavian design and architecture, the city's food scene, and season of activities are among some of Copenhagen's defining qualities. Plus, there's plenty for groups to enjoy.
Attractions to visit in Copenhagen
Amalienborg Palace is considered one of the top attractions to visit in the city. The palace, which belonged to Christian VIII, acts as a window into royal life both past and present in Denmark. During a visit groups can learn about 250 years of history and enjoy guided tours, following in the footsteps of royalty.
Canal tours are a popular way to see the city, taking in the scenic harbour and canals. These tours feature a live guide who will point out the picturesque locations and iconic sights such as castles, churches and houseboats. These canal trips are available all year round and details can be found here.
The Designmuseum Denmark is located in the centre of the city and introduces visitors to Copenhagen's ties to design. Collections cover art, design, textiles, fashion and poster art. Group rates are available for those with ten or more people.
The Guinness World Records Museum is the place to be to see the tallest, smallest, best, worse and all other kinds of extraordinary thing. There you'll explore milestones and achievements from the honourable to the more bizarre.
If your group is interested in beer, your group might like to stop off at Visit Carlsberg. Here you'll get to taste Danish beer, learn more about the brand and enjoy daily guided tours.
Pictured: Canal tours are a popular way to see the city.
Tours Operators offering group travel to Copenhagen
Intrepid Travel offers tours to Denmark which visit Copenhagen, among other locations including trips across Norway and Sweden too. The average group size is about ten people, so ideal if you're looking to go with a smaller group.
Norman Allen Group Travel offers a Copenhagen, Oslo and the Fjords itinerary, a 12-day trip which can be tailored to your group's needs and can be adapted for coach travel. Expect to see Amalienborg Palace and Nyhavn Wharf, the new opera House in Oslo and experience a Norwegian train journey during this trip.
Go-Today is another operator promoting group travel to Denmark. Its Copenhagen, Berlin and the Hanseatic Ports of Northern Germany trip takes place over nine days and visits three UNESCO World Heritage Sites, includes a guided tour of Copenhagen, and visits Berlin's top attractions. Its eight-day itinerary, Copenhagen, Oslo, Stockholm and Helsinki, takes groups to see Viking ships, sightseeing in Copenhagen and includes free time to explore the locations for yourselves.
If your group is more into cruising than strolling, there are a variety of cruise companies which offer trips to Copenhagen. Cruise lines to look out for include Cunard, Fred. Olsen, Viking Cruises and Saga.