Reimagined, repurposed and revitalised - this production of Rodgers and Hammerstein's Oklahoma! is sure raise eyebrows during its West End run.
Director Daniel Fish well and truly ripped up the rule book when it came to bringing the classic Oklahoma! to the stage for the modern-day theatregoer. Gone are dated routines and staging and in its place we find an interpretive 'dream ballet' and plenty of unsettling tension.
The set is basic, 60 rifles lining each side of the theatre, sat in racks atop a light wood background which features a farm mural at the back of the stage to give an indication of where we might be in the world. Other than that, it's down to your imagination to navigate the plot and the scenes. Fortunately for us, and like many who will take a punt on this, we knew the classic story well enough.
In case you don't know, Oklahoma! showcases a community banding together against an outsider, and the frontier life on Aunt Eller's farm that shaped America. Curly McLain (Arthur Darvill) is incredibly likeable, strutting around the stage with ease as he states his case to be the man that Laurey Williams (Anoushka Lucas) marries, only to clash in a love triangle with the intense Jud Fry, played both here and on Broadway by Patrick Vaill.
The trio all have their moments of brilliance, Darvill's during the opening number with guitar in-hand for Oh, What a Beautiful Mornin', Vaill projecting his low tone excellently in Lonely Room and Lucas' delicate side in People Will Say We're In Love.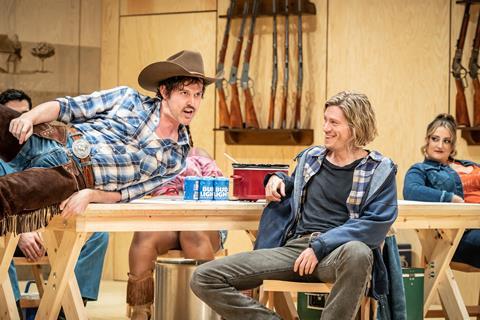 Rodgers and Hammerstein's iconic score sounds just as brilliant as if the tunes were written yesterday. All are delivered with conviction, played excellently by an orchestra who you can see throughout in front of the stage wearing their best western gear.
In fact, the lights barely drop at all, meaning the actors can see you as much as you can see them. But when the beams do fade on two occasions, it's complete darkness while the characters explore their feelings. Explosive gunshots also keep you engaged (it is a western after all!) - or in my case, an explosive bulb which accidentally burst into a puff of smoke during a scene when Will Parker (James Patrick Davis) was mid sentence, causing the actor to stumble on his lines, but carry on with total professionalism. The show must go on as they say.
Love theatre? Want to be the first to know?
Get our free 'Theatreland Spotlight' email newsletter to receive theatre news, cast information, reviews, interviews and what's best for groups, sent to your inbox.
Find out how

My metaphorical cowboy hat goes off to the whole cast who work extremely hard to deliver a complex production which involves not only blackouts, but plenty of physical routines including the 'Dream Ballet', devised to show the thoughts inside Laurey's mind through dance. I'll let you make your own mind up about that - it's an extraordinary piece of theatre.
A huge 'yeehaw!' (ok, I'll stop now) should also go to Georgina Onuorah who plays the lovesick Ado Annie. Her rendition of I Cain't Say No is feisty, taking hold of a microphone and turning Wyndham's Theatre into a pop concert for a moment. She oozes confidence, at one point stepping into the audience to serenade one gentleman whose face turned just about as red as the tomatoes grown on Aunt Eller's farm.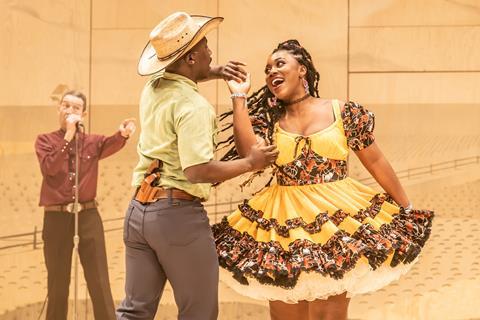 This is not the Oklahoma! of times gone by. This Tony award winning revival is gripping, with a more underlying sinister feel from the original that culminates in an explosive ending. Sometimes, by ripping up that rule book you're left with a new performance which loses the magic of something so iconic. This isn't the case here, as we see a classic move into a new era of greatness.
We saw Oklahoma! at Wyndham's Theatre in London on Friday 24th February. The show runs until 2nd September with special rates available at certain performances for groups of ten or more. More information is available at www.oklahomawestend.com.

With a love of journalism and travel, Harry enjoys writing about his experiences for GLT readers to use as inspiration. Brighton, Dublin and Amsterdam are among his favourite cities to visit and he enjoys delving into historical sites too – especially those linked to the Tudors and World War Two.