Gardens are a staple of group day trips and longer breaks. But what about finding somewhere a bit different? Try these for starters.
Borde Hill (pictured above) in West Sussex is looking forward to welcoming groups back this year and will be honouring discounts for 10+ visitors, instead of the usual 15, recognising that smaller groups can make separate travel arrangements if they need to.
Throughout 2021 groups can pre-book tours of the 17-acre Garden, exploring the serene Mediterranean charm of the Italian Garden or the quintessentially English Rose Garden.
Groups are often looking for quieter periods to visit gardens – St Michael's Mount in Cornwall is a great choice for either autumn or spring when there are fewer crowds. Whether you're fascinated by ley lines or interested in sub-tropical flora, itineraries can be tailored to group interests and specialist guides can be booked to answer your questions to make the most of your experience.
My unusual garden recommendations are…
Dewstow Gardens, Caerwent, South Wales: An extraordinary garden with beautiful landscaped paths, decorative beds, waterfalls and pools.
An accidental discovery of descending steps in 2000 led to an extensive labyrinth of underground grottoes, tunnels and sunken ferneries which now form part of a unique Grade I listed garden.
Cascades Garden, near Matlock, Derbyshire: A fascinating private four-acre peaceful garden built on the remains of an old corn mill. It is at the base of an almost sheer cliff face with rills, cascades, ponds and an old lead mine.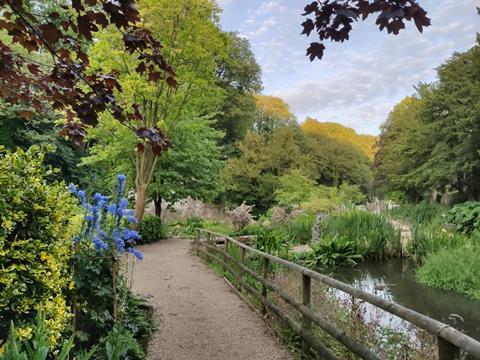 The garden was inspired by a Buddhist monastery in Japan and provides secluded rooms, with rock formations, delicate planting schemes including unusual perennials, for relaxation and reflection.
Group organiser Penny Hodgson
Shamley Green Gardening Club / Shamley Green Village Care
You may have spotted the Grade I listed gardens at Iford Manor in Wiltshire in the fantasy drama film The Secret Garden, starring Colin Firth. They are holding the 2020 entry prices for 2021 and are taking group bookings for the 2021 season.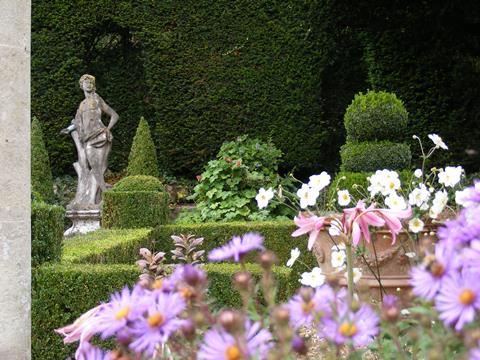 There's year-round interest thanks to Harold Peto's unique garden design but they're particular spectacular from June to August when the roses, peonies and borders start to come into their own.
The walled garden at Floors Castle on the Scottish borders is a show-piece of seasonal colour and interest. The glasshouse dates from the 1850s and the Victorian tradition of growing plants and fruits continues today.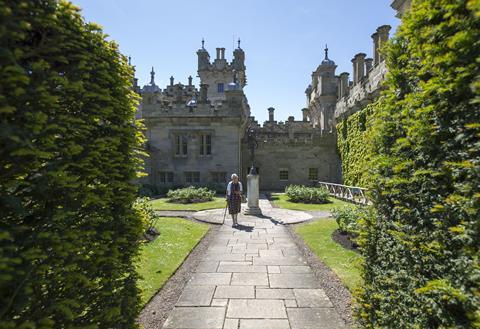 A tapestry garden features a mix of meandering paths, hidden corners and other features. Groups normally receive discounted rates and coach drivers benefit from free admission, parking and refreshments.
Unique in its position, carved into the hillside, the Walled Garden at the National Trust's Wallington, Northumberland, is an enchanting day out. From a peaceful stroll through the East woods to the Mary Pool stone feature, there's plenty to charm visitors to the attraction. The Lower Terrace Border has been rejuvenated and is full of interest with climbers that embrace the old wall and a combination of plants that please the wildlife.
My garden of choice is…
…Beth Chattos in Sussex: It's one of my favourite gardens to visit. Another is The Raymond Blanc Gardening School in Oxfordshire but you do have to eat there - I took my mum for lunch and did a tour of the garden with the Head Gardener. In the autumn my favourite is the Westonbirt Arboretum & Highgrove gardens. I'd also recommend Tresco Abbey Garden on the Isles of Scilly Islands, best to visit earlier in the year.
Group organiser Jacque Garside
Ashton-u-Lyne Soroptromists group
From spring to summer, the roses are glorious at Pashley Manor Gardens on the border of Sussex and Kent come mid-June. During its special Rose Week, this year pencilled in from 8th to 16th June, masses of gorgeous pinks can be found spilling out of their box hedged borders in the Rose Garden.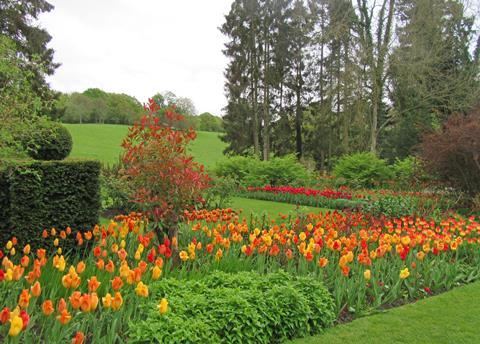 Even the front of the house is covered in the creamy apricot flowers of Rosa Gloire de Dijon. There are highlights all year-round including riots of autumn colours among the trees and shrubs.