A number of new trails, themed from sculptures to clowns, have been revealed across Britain's towns and cities, offering plenty to groups seeking a quest in some interesting locations.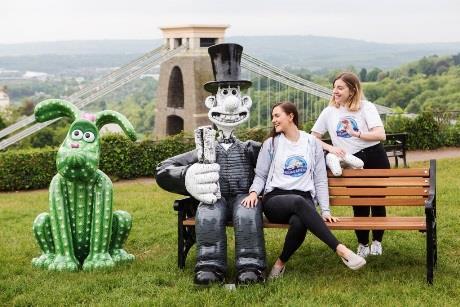 Find Wallace and Gromit
More than 60 colourful sculptures of Gromit, his best friend Wallace, and arch enemy Feathers McGraw will form part of a new trail in Bristol this summer, called Gromit Unleashed 2. Over 60 original sculptures will descend on the city in order to raise money for Bristol Children's Hospital and St Michael's Hospital. The sculptures will be positioned in high footfall and iconic locations in and around Bristol, perfect for a group day out exploring the city and beyond.
Chase Tigers
New this summer at Knowsley Safari in Merseyside, an Amur Tiger Trail will see visitors explore a forest in search of tigers. The new development has taken over a year to complete and guests visiting will have the chance to immerse themselves in the Russian themed exhibit and learn all about the Amur Tiger – also known as the Siberian Tiger. The journey through the tiger habitat reveals great areas to observe the big cats through full length viewing windows.
Selfie time
Photography groups will love the 'selfie trail' in York, a map of which can be downloaded online or picked up at the Visitor Information centre. Follow the footprints around the city to complete the trail, which takes in the most iconic photo spots in the city where you can take sensational selfies at each one, or just enjoy each landmark. Don't miss snaps at York Railway Station, Clifford's Tower and JORVIK Viking Centre.
Catch a clown
Amateur sleuths are being invited to solve a new Murder Mystery Treasure Trail set on the streets of Clerkenwell. The Clerkenwell Clown Caper is the latest in a series of more than 50 downloadable self-guided Treasure Trails based in and around the capital, and the plot involves catching a clown. Lasting around two hours, the aim of the trail is to solve a set of fiendish clues incorporating plaques, signs, statues, monuments, images, engravings and other landmarks.
Watch whales
The Hebridean Whale & Dolphin Trust is currently developing a trail made up of a network of fantastic whale-watching and whale heritage sites across the west coast of Scotland. The Whale Trail will interpret and connect these important sites to showcase the amazing marine wildlife experiences that can be had across the Scottish coastline. Watch this space for more details.
Serious sculptures
The Bishop's Palace in Wells will be hosting a new sculpture trail from this September within its gardens and Medieval buildings. The trail will be available between 15th September and 25th November and will be one of the few galleries specialising in sculpture in the country. The sculpture trail will be made up of ten pieces of art which will be located throughout the acclaimed Inner Gardens of the palace.