The World Heritage Site in Shropshire has plenty for groups to discover, from remarkable landscapes to fascinating stories.
Situated in the heart of the country, Ironbridge Gorge Museums is made up of a series of award-winning attractions preserving the history and stories of the Industrial Revolution. They offer plenty of group benefits and experiences – here's our top five for starters:
1. Meet 'real' Victorians
Take a stroll along the cobbled streets at Blists Hill Victorian Town, a family-friendly recreation of Victorian town life. Stop at the bank to pick up some pounds, shilling and pence and visit the pharmacy with all its weird and wonderful Victorian remedies. Meet local shopkeepers and watch tradespeople in action. Visitors won't go hungry – stop off at Fryers for a traditional portion of fish and chips, or pick up some fresh bread at the bakers.
2. Explore an Edwardian underground station
The site of Jackfield Tile Museum was once at the heart of tile production in the country. See decorative examples in-situ at a recreated pub, church and underground station and take in beautiful friezes, panels and more at the gallery. Nearby is Fusion, which is home to a number of artists and their studios, where you can purchase original artwork.
3. Take a break at the Furnace Kitchen
A new dining experience has opened in historic Coalbrookdale, offering delicious food whipped up by celebrity executive chef Marcus Bean. After a relaxing meal, groups can explore the Coalbrookdale Museum of Iron's collection of delicate art castings – the very same that were exhibited at the Great Exhibition of 1851.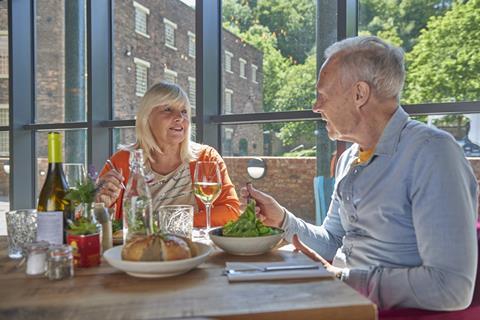 4. Discover the beautiful Northumberland Vase
Coalport China Museum is filled with special treasures once belonging to wealthy families, Queens and even Tsars. Study statuesque vases, hand-painted miniatures, and see the china that was crafted for Queen Victoria. The biggest item ever made at Coalport is the remarkable Northumberland Vase. Reflect on your visit at the nearby Coalport Café, which serves light lunches, snacks and hot and cold drinks.
5. Walk across the very first Iron Bridge
Can you imagine what life was like three centuries ago, when the Industrial Revolution began? Step back in time as you walk with your group across the world's first Iron Bridge, built in 1779 across the River Severn. English Heritage carried out its largest conservation project at the time in 2017, making important repairs to cast iron elements and cleaning and repainting the whole structure. Don't forget to snap a group photo in front of the architectural marvel. There's also an exhibition in the original Tollhouse that shares more about the craftsmanship and secrets behind the Iron Bridge.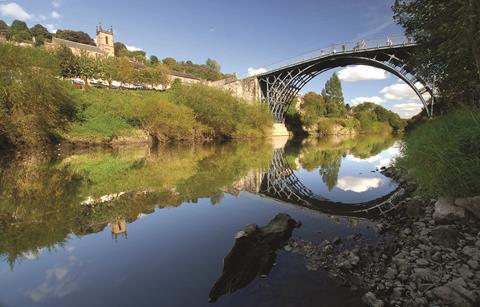 Groups can book an all-sites visit with discounts for groups of 15+. Free coach parking is available at every museum, and group leaders and coach drivers receive complimentary admission.
When groups book their visit to Ironbridge Gorge Museums they are also entitled to a free familiarisation trip for two adults. For more information, download the Group Visits Brochure from https://www.ironbridge.org.uk/plan/groups/.