We can now reveal the four finalists for The Excellence Award 2018, as nominated by you.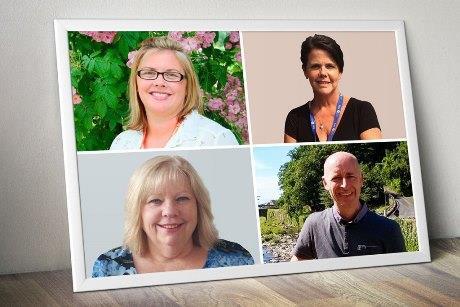 Presented at the annual Group Leisure & Travel Awards ceremony on Wednesday 10th October, 2018, The Excellence Award recognises outstanding service to group travel organisers by individuals in the travel trade.
Now in its tenth year, our finalists have been nominated by GTOs and travel industry professionals and then handpicked by the Group Leisure & Travel team, based on the experiences and information shared by readers.
Voting has now closed.
Tracy Cullen - Group Sales and Membership Manager, Alnwick Garden
Job role: Answering booking enquiries, organising group visits to the garden from beginning to the end, ensuring any additional requirements such as tours, scooter hire and catering needs. I take payments where necessary and organise collection of tickets etc as well as marketing the garden to group organisers and travel trade. I also attend travel shows, B2B workshops and meetings where we are stakeholders.
What Tracy loves about her job?
Being able to welcome so many different types of people to the garden and tailor, where possible, every requirement/special request to allow the best visit. It doesn't matter if the visitor has poor mobility or is partially sighted, we'll tailor our tours to the need of the group. If they don't want to queue in admissions, I can organise for tickets to be waiting for them at the coach drop-off point. I pride myself on helping the organiser throughout the whole booking process and enjoy meeting them on the day of the visit, to give extra reassurance that everything is in hand.

Barbara Flood - Group Holiday Sales Adviser, Warner Leisure
Job role: Warner's mission statement is to Delight Our Guests, and I try to do this daily. Working with groups, varying between 20 people and those who take over an entire hotel, I help organisers book the perfect group break. From birthdays and anniversaries to retirement, walking, friendship and dancing clubs, I help them choose their destination, price the trip and help with special requests, luggage labels and sometimes just a friendly, reassuring chat.
What Barbara loves about her job?
I still look forward to Monday mornings, even after 12 years! I'm very fortunate to work in a fun and friendly office; I think that comes across to our organisers. Over the years I've been lucky enough to meet many of our organisers at exhibitions and events and at our hotels, making friends along the way. Hosting hotel visits is one of the most enjoyable parts of my role; getting to spend time with our organisers in lovely locations and showing them all the wonderful things we can offer their group.

Ian Pearson - Group Travel Manager, Harry Shaw Group Travel
Job role: The best way to describe my role is to say the only thing I don't do is drive the coach or fly the aeroplane! My total, hands on approach starts with the initial contact from the GTO, listening to their specific requirement, recommending and sourcing the appropriate accommodation, researching and making bookings for guides, attractions, ticket etc, all the admin, producing the driver and GTOs tour packs, to finally calling the GTO upon their return.
What Ian loves about his job?
At 14 I started washing coaches at my local coach company in the North East; my first foray into the coach holiday industry. Since then, I've been continuously employed within the tour industry, culminating with an approach to work for Harry Shaw/ City Cruiser Holidays back in 1990 and 28 years later, I'm still here! In 2009 I was asked to manage our dedicated Group Travel Department and since then I'm delighted to say the department continues to grow, giving me great satisfaction knowing the service I aim to provide, along with the holidays we operate, are well received by our GTOs, many of whom I've come to know personally. The satisfaction you get when GTOs entrust you to fulfil their requirements and the thanks you get, is what my job is all about.

Alison Stoakes - Groups Department Manager, Riviera Travel
Job role: I've managed the Groups Department for the last 10 years of Riviera's 34-year history and so am involved in everything from group enquiries for any of the escorted tours and river cruises, transatlantic crossings or long haul adventures through to bespoke group tour planning and the operation as well as the 'behind the scenes' roles such as marketing and the acquisition of new groups. From everyday tasks such as answering enquiries and issuing boarding cards to researching the story behind a bespoke itinerary request, no two days are the same, the role is varied and I never know which destination groups will ask us to explore for them next!
What Alison loves about her job:
Seeing the progression from the initial tentative enquiry through to the holiday and even to paying the group commission when they return, and to be involved in every aspect, is very rewarding. I love working with new groups; when they return year after year, they become friends. We get to know what they like and can suggest suitable new tours. We're regularly asked to arrange new adventures whilst they're still on their current holiday with us, or the day they get home, the best recommendation we can get.
I have seen the company grow and change so much, in destinations and concepts. I am lucky to have a really great team in the Groups Department, each with their own Riviera history, and every successful group holiday is a team effort - here's to our continued success for the next decade.