A Brighton trip with added luxury, cosy forest cabins and a Norfolk escape, how about these glamping locations for starters?
Glamping may have started as a trend, but it seems here to stay. We've shared five locations that add an extra touch of glamour to the great outdoors for your next group holiday.
1. Group glamping in Brighton
Travel journalist Mark Henshall heads south for a city break with a difference:
The train station on a Friday night in Brighton can feel a little like the world's hen and stag parties have come to town. That's fine, of course, as Brighton's an exceptional city to celebrate but it doesn't mean your group has to listen to the noise once you've enjoyed your night out.
Step up, Experience Freedom, from the Caravan and Motorhome Club, which provides luxury accommodation such as glamping pods, canvas yurts and wooden camping pods in some of the most beautiful locations in the UK. The Brighton site is set in peaceful surroundings far from the madding crowd amongst fields of wild flowers, with rabbits darting about and wondrous views down to the waves. Plus, it's just a 15-minute stroll to the marina and two miles to central Brighton.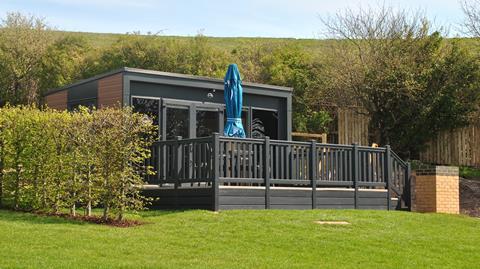 There are 10 self-contained glamping pods on the Brighton site - set high above the rest of the site's caravan and camping site - meaning everyone gets some space and privacy from each other. On the evening I arrived, we were able to sit on the pod's balcony and stretch out while listening to birdsong – all pretty blissful at the end of a long week.
The spacious and comfortable glamping pods can be booked together for groups, as well as the option of using any of the other site's accommodation options: airstreams, camping pods and tent pitches. Each pod features a double bed, a bunk bed with bedding, en-suite bathroom facilities including shower, simple cooking equipment, utensils & tableware, a wardrobe & hangers, foldaway table, TV, DVD player, WIFI and Bluetooth speakers.
Outside, on the balcony you have an outside table with four chairs and a parasol, plus a brick BBQ station (one disposable BBQ is included and more can be purchased on site) and a box for muddy shoes. For sun worshippers, there is even a small yoga space to stretch out in the morning at the end of the pods to see the sun rise over the sea.
Given central Brighton is busy at any time of the year, Experience Freedom really does offer something different in the city, and its prices (from £69 per night per pod) stack up favourably against the hotels in town. For dinner close by, there are plenty of options at the marina as well as the light and bright Laughing Dog café for the morning, which is part delicious brunch stop and part art gallery and book store.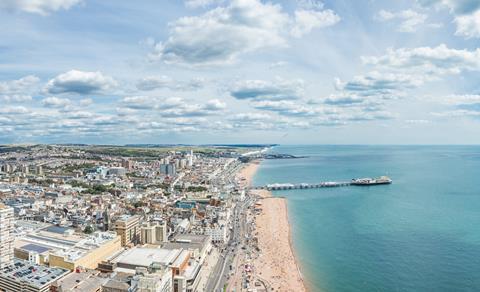 Groups should take advantage of Brighton Explorer Pass, which gives you access to top attractions and experiences such as the i360, where your group is taken slowly up a high tower into the air to get a bird's eye view of Brighton, Hove and far beyond. You can even have a gin and tonic on the way. For adrenalin junkies, try Brighton Zip, the longest (300 metres) along the south coast, which also has a 24-metre drop zone for anyone wanting to find out what a parachute jump feels like. Brighton truly does rock.
2. The Fire Pit Camp, Norfolk
Located in Norfolk, The Fire Pit Camp visitors will have easy access to two beautiful types of accommodation – The Wren's Nest, which is a surprisingly spacious, two-storey den, and The Camping Meadow, filled with bright bell tents. On site you'll find a dedicated Yoga Yurt, funky Warehouse Bar and a communal firepit. Thanks to the option to book out a 'festival weekend' in the summer months (May-October), groups of up to 36 can obtain exclusive use of the meadow, communal kitchen, fire pit and more.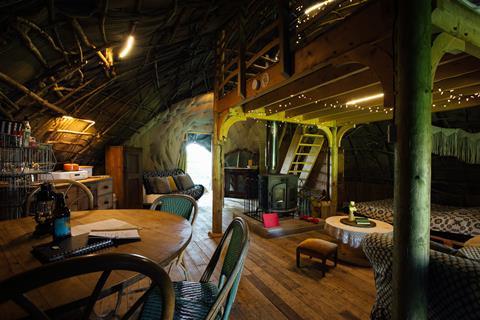 All the information about this unique offering can be found on their website, while bookings are handled by Canopy & Stars, who select the most inspiring glamping places to visit in the UK and Europe. To organise a group booking, get in touch with them on 01172 047830.
3. Lower Keats Glamping, Devon
If you're excited to experience true glamping luxury, take a trip to Devon and stay in one of Lower Keats Glamping's six canvas camping lodges, only 15 minutes from the iconic Jurassic Coast. Inside your countryside home, enjoy a wood burning stove, chesterfield sofas and a dedicated en-suite. Groups can enjoy the views while gathered around the firepit or come together at the sheltered communal area to eat and relax.
Lodges are designed for six guests and can be booked online individually; call the team on 07540 367386 to arrange a larger group booking.
4. Secret Cloud House Holidays, Staffordshire
To take your group glamping trip to the next level, indulge in Secret Cloud's award-winning yurts. Each one comes with a wood-fired hot tub – the perfect place to unwind and admire those Peak District views. As tempting as it will be to stay inside your boutique accommodation, with its handmade beds and wood burning stove, better still to explore the other facilities on offer at this quiet meadow location, such as the sauna and Wellness Room.
Better yet, you can book the whole site to yourselves, with enough space for up to 18 guests. Booking for a larger number? That's okay – 20 minutes away is Secret Cloud's sister site, Scaldersitch Farm, which offers exclusive-use bookings for up to 25 guests. Secret Cloud is happy to provide a list of activity ideas for large groups: take a relaxing yoga class among the wildflowers; learn to craft cocktails; and much more. Enquire about group bookings on their website or give them a call on 01298 687036.
5. Forest Holidays, Forest of Dean
When you think of camping, a treehouse might not be your first thought – yet Forest Holiday's Golden Oak Treehouse is ideal for nature-loving groups looking to enjoy solitude in comfort.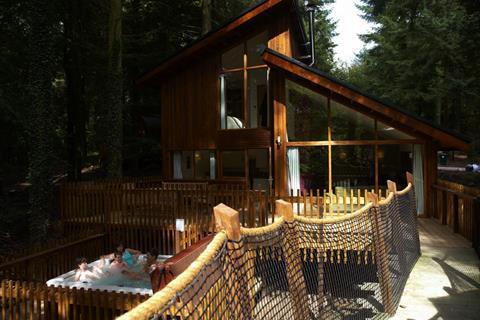 This unique treetop setting in the Forest of Dean can be booked online and sleeps up to 10 guests (find the separate master bedroom across a rope bridge!). For groups larger than 10, add some cosy cabins onto your booking, available in the tranquil forest space or in the open meadow area. The dedicated Group Bookings team can be contacted for multi-cabin bookings, and offer help planning group events. Get in touch on 03330 110495.