Roger Bart, who appears as the hilarious Doc Brown in Back to the Future the Musical, tells us more about his take on the role, memories of when the original film was released and some of the huge stars he's worked with so far.
What's it like to play the classic part of Doc Brown?
I love playing someone who is both funny and has a lot of comedic potential which I try to take advantage of in the show. Doc Brown is a bit of an interesting soul, I think he's referred to once in the show as the 'lunatic over on Riverside Drive' so I don't think he has a lot of friends in Hill Valley. I think that's why he befriends Marty McFly, who is also on the fringe of his school life, and they mentor each other which is wonderful to watch on stage. Both my parents were scientists too, so this is as close as I can get to playing someone who celebrates the two of them.
How far did you base the character on Christopher Lloyd's portrayal in the film?
This is not my first time playing somebody who has done an indelible and memorable performance of a role, but I'm not much of mimic. What I loved about Chris was the expression he pulled on his face with that intense look in his eye, there's something quite dramatic about the way he stares. That I lifted along with his voice to use as a launchpad. You then slowly start to adjust to your own unique set of skills. I stopped watching the movie very early on and made it my own.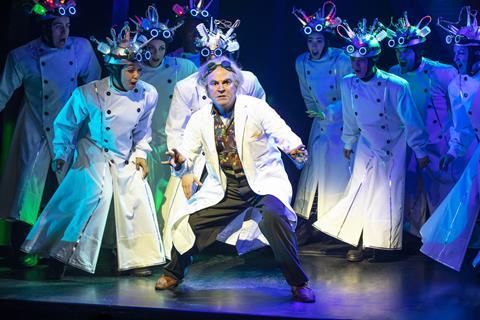 What do you remember about the film when it was first released?
I was just out of college; I went with a few friends to see it and just has an amazing time. I remember thinking, 'ah man, I wonder if I'll have the career that Michael J. Fox has had', as I was about his age at the time. If only someone had a little crystal ball then to tell me that I'd go on to play Doc Brown in the West End!
Who would have thought that Doc Brown would have the chance to sing in the future… was it daunting?
It was actually very funny. When I was sitting with Chris and they were announcing me in the role, he said to me that he was curious to hear what Doc Brown would sound like when he sings, and then it dawned on me that I also had no idea. A lot of the songs written for the part are impossible to sing in the way I speak in the role. I just couldn't do it and my voice still takes a beating every night!
Love theatre? Want to be the first to know?
Get our free 'Theatreland Spotlight' email newsletter to receive theatre news, cast information, reviews, interviews and what's best for groups, sent to your inbox.
Find out how
You and Olly Dobson (Marty McFly) have real chemistry together on stage, it's like you've been friends for years…
We have a great working relationship and he's really fun to be around. We developed this whole thing together and when you're rehearsing, coming up with ideas and your character happens to be a little bit bonkers, which I think Doc is, he had to put up with a lot. He was very patient with me and we had a lot of laughs.
Who have you worked with during the course of your career who has really stood out?
My first ever scene in a movie was with Al Pacino and Russell Crowe and I loved working with Christopher Walken, plus Nick Nolte was pretty dazzling too. It's so amazing over the years that every once in a while you find yourself in a room with these extraordinary people. I also got to work with Betty White, Cloris Leachman and Catherine O'Hara, who I just adore.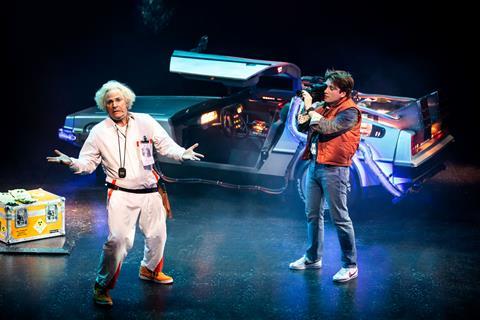 Some people may not know that you also sung Go The Distance, the lead track to Disney's Hercules animated film. Did you realise how big that song would be when you recorded it?
I knew that song would be the longest lasting thing that I would probably do in my career and its continued popularity through each generation is very gratifying for me. Even now, the people I am working with on Back to the Future who are from 23 to 28 years old all say to me that they grew up with that movie, so it's really thrilling. I knew at that time my voice could be right for that kind of part, particularly as a juvenile hero due to certain qualities I had. I had gone in for Aladdin and didn't get it, but I really felt like I could be right for a young part so fortunately my number came up and they liked my voice for Hercules.
At what point in your life did you know you wanted to be an actor?
I knew I enjoyed it, I felt comfortable and I loved singing. I was in a rock band and I loved being a musician on stage, it was so fun and very easy but it was only when I went to college at 17 that I understood the art of theatre and that's when I really got switched on with the idea. I then gave myself to the time I was 30 to make a living out of it and at about 29 I got my first big job. I always thought it would be fun to be an actor, but like everyone in this industry, I did have moments when I thought 'what the hell am I doing'. I do look back now though and feel really lucky to have had this career so far.
Back to the Future the Musical, which currently runs until 23rd October, has released a range of new ticket offers, which provides groups from as small as eight to over 20, discounted admission. All ticket offers apply to seats in the stalls and dress circle of the Adelphi Theatre. For more information and to buy tickets call 020 7087 7763 or email groups@adelphitheatre.co.uk.

With a love of journalism and travel, Harry enjoys writing about his experiences for GLT readers to use as inspiration. Brighton, Dublin and Amsterdam are among his favourite cities to visit and he enjoys delving into historical sites too – especially those linked to the Tudors and World War Two.