Packed with a string of number-one hits, smooth harmonies and deft dance moves, this Jersey Boys production will take you back to the 60s with its epic story of heartbreak and fame.

New Jersey is a dab hand at producing musical phenomenons. Frank Sinatra, Debbie Harry, Dionne Warwick and Whitney Houston, to name but a few, all grew up in the US state.
As did Frankie Valli (born Francis Castelluccio) and Bob Gaudio who became half of the Four Seasons, the musical sensation that shot to fame in the 1960s.
Jersey Boys tells the story of the band's epic rise and challenges along the way. It's quite a feat to condense over 20 tumultuous years into a couple of hours but Rick Elice and Marshall Brickman's book manages to capture the dynamics between the band members, as well as the twists and turns of the band's progression, beginning when Valli, aged just 16, takes the mic at The Strand Club and becomes the band's lead singer.
Previous tour alumni Michael Pickering and Lewis Griffiths portray Frankie Valli and Nick Massi respectively, with Blair Gibson as Bob Gaudio and Dalton Wood as Tommy DeVito. Immediately the four fall into tune with each other, with their seamless harmonies, finger-clicking moves and captivating smiles making it hard not to tap your feet. Their music takes off – one hit follows another and before long the quartet have become sell-out stars.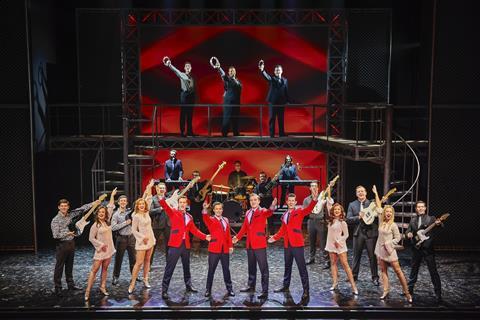 Pickering's Valli hits all the right notes, his meltingly smooth vocals soaring in classics including Oh, What a Night and Can't Take My Eyes Off You (whose many cover versions have since become floor-fillers at weddings) while Beggin' is delivered with verve and attitude.
As the months roll into years, each character takes a turn to narrate the story of how their lives became a whirlwind of TV appearances, record deals and tours.
But with the highs of fame came the lows and, behind its clean-cut image, the band was riddled with debt and mixed up with crime, most significantly with loan-shark Angelo 'Gyp' de Carlo, played by Jordan James. These New Jersey locals don't hold back with their language, so expect plenty of swearing.
The pressures of constantly being on the road and away from their families is documented, too. When Valli's first marriage breaks down, a duet of My Eyes Adored You with his wife Mary is tinged with sadness and regret. Valli later sustains another devastating loss when his youngest daughter dies.
The set, designed by Klara Zieglerova, is simple and swiftly executed. Guitars, keyboards and drum kits are wheeled on and off stage at speed and the tables and chairs, depicting the dinner clubs where the band performed, land seamlessly into position. A screen at the back of the stage is used to project the name of each season as a way of documenting the passing of time while, of course, linking to the band.
Gaudio, now 79 and who famously wrote smash-hit Sherry in 1962 after it "popped into his brain" on his way to a rehearsal, composed and co-produced the show. To this day he and Valli (87) still work together, a partnership that was sealed with a handshake all those years ago.
The story wraps up when the band reunites after more than 20 years, with each character reflecting on their endeavours. As Valli concludes in his parting line, he's "still chasing the music and trying to get home".
We saw Jersey Boys at Milton Keynes Theatre on Wednesday 23rd February. The production is currently on a UK tour, ending its run on 3rd December 2022. For dates, venues and more details, visit www.jerseyboysmusical.co.uk/tour and for group bookings call 020 7206 1174.