Whether it's natural sites, fantastic attractions or scenic coastlines, here are some of the best places across Kent to snap on your next trip so your photo album is full of great memories.
Folkestone
If you're looking for culture, coast (pictured above) and culinary grandeur then look no further than Folkestone's Creative Quarter. Peruse awe-inspiring artwork as part of this year's Creative Folkestone Triennial, stop and watch the world go by in one of the wonderful independent cafés, before heading harbour-side to enjoy fantastic food along Folkestone's Harbour Arm. Make sure you have enough storage on your phone for this photo spot – there's a shot to be snapped at every turn.
Ramsgate Royal Harbour
Moor up at the UK's only Royal Harbour in Ramsgate and delight in this special spot's cosmopolitan buzz. Ramsgate Royal Harbour is the perfect place to sit and people watch, explore the range of businesses nestled within the arches, or simply spend some time capturing the reflections of the assortment of sailing and powerboats bobbing peacefully on the water's surface.
The White Cliffs of Dover
There is no beating the iconic natural landmark that greets you when you arrive across the Channel from France. When you're perched right at the top of them, it can be pretty tricky to get the perfect photo that really encapsulates the size and scale of this striking chalk face, but the view across the sea and across the horizon is just as magnificent.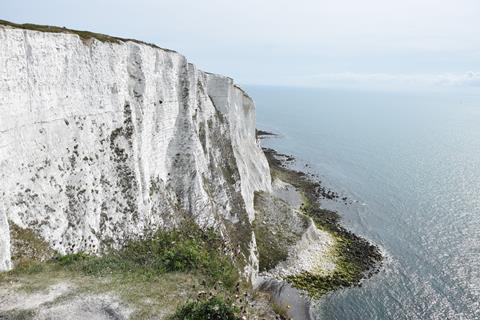 The Mount Vineyard
Wonderful wine? Dappled vines? A quaint and quintessential village setting? Check, check, and check again. Often described as a hidden gem, The Mount Vineyard is nestled right in the heart of the picturesque village of Shoreham, just a few miles north of scenic Sevenoaks. Spend a balmy afternoon relaxing in this boutique vineyard which features ten acres of vines within its 28-acre estate, and whatever you do, don't forget to take a picture!
Hever Castle & Gardens
From the romantic Italian Garden with its stone loggia and beautiful lake, to the quintessentially English Rose Garden planted with 4,000 roses or the Blue Corner packed with hyacinths, hydrangeas, ceanothus, and some pretty sensational scents, Hever Castle & Gardens is quite something. Spend a day delving into 700 years of history at the childhood home of Anne Boleyn, taking in the magnificent moats, challenging mazes and award-winning gardens, as well as two beautifully illuminated prayer books which belonged to Anne Boleyn and bear her signature.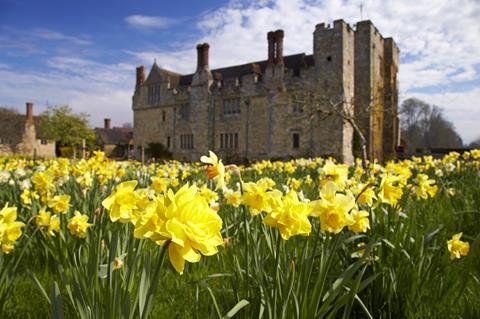 The Pantiles
The Georgian colonnade of The Pantiles in Tunbridge Wells is one of the county's prettiest shopping areas and houses an array of independent stores with everything from cameras to carpets on offer. With its wide range of alfresco dining spots, alluring architecture and a varied programme of events and live entertainment, it's not hard to see why it deserves a picture.
Canterbury Cathedral
The Mother of the Anglican Church and a UNESCO World Heritage site, visitors can marvel at the cathedral's stained-glass windows and ornate architecture before taking a guided tour to discover the deeper history of Saint Thomas Becket's infamous murder, which is the very best way to enjoy this world-famous landmark. The cathedral's precincts offer countless angles from which to capture this beautiful building, but be sure to head outside to the Great Cloister for a unique view as well.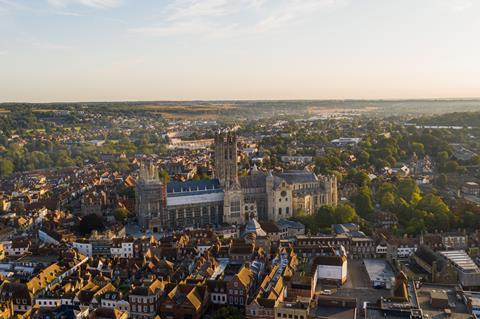 The Historic Dockyard, Chatham
You could spend a full day touring the Historic Dockyard, Chatham in the north of the county. With a site this vast, it can be tricky to know where to capture that perfect picture, but the team over at the Dockyard recommend walking the decks on a Victorian sloop, ringing the bell on a World War Two destroyer, and keeping your step count up by experiencing the quarter mile-long Victorian Ropery.
For more information about Kent and what's on offer, click here