Wine expert Oz Clarke, who was a guest speaker at the Group Leisure & Travel Show in October, talks to Jennie Milsom about his favourite food and drink tours and how groups can get the most out of a wine tasting trip.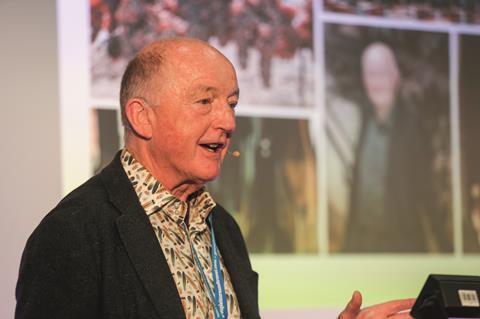 What have you missed most about travel and food tours during the pandemic?
I've missed the sound of people speaking their own language in the street, the different smells of food coming out of restaurants and the different textures and flavours of beer in the countries where it's brewed. I've missed the different quality of light, the way that the sunrise and the sunset is different in every country you go to.
What tours have you managed to take recently or are looking forward to in 2022?
My first overseas travel for a year and three-quarters was genuinely exciting. I went off to the Moselle Valley and led a tour. I stood on the back of the riverboat gazing in excitement at these wonderful vineyards and the gurgle and the supping of the riverboat in the currents.
It's the little things like standing there watching the sailors at work and talking to the captain about navigating at night with all the barges coming up and down the river. To me, travel is not about the smartest hotel or the most extravagant meal, it's about the nuts and bolts of life as it's being lived in those countries.
What have been some of your most memorable meals?
Mostly simple stuff, somewhere where the view is best and where the people are happiest. A Moselle 'schnitzel wurst' which was shoved into a fairly basic bread bun and I had with a glass of Elbling – an ancient grape that the Romans planted and makes fairly acidic wine – and a good squirt of German mustard.
I could not have been happier if I'd been at the table of an Emperor. That was standing outside a 'wurstbar' by a bridge in Traben-Trarbach. Often it's you and your emotions and the person or the people you're with that makes the meal.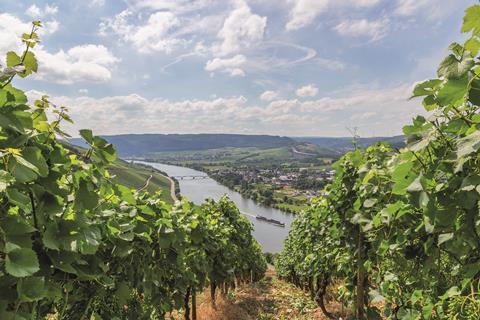 Which wine regions should we look out for in 2022?
England, definitely, and Wales as well. We take it seriously in England now – in the last ten years it's astonishing how our vineyards have transformed out of all recognition. Sussex is the main player, Kent is rapidly catching up and Hampshire's got a whole bunch of vineyards that are doing really well.
Essex is quietly proving itself to be one of the best counties in England for still wine because it's the driest county in England. The pinot noir they grow in Essex is regularly among the best in the whole of England – wineries all over the country use Essex pinot noir because it's so good.
How is climate change reshaping the wine industry as we know it?
It's completely massive and very extreme. In April in England there was frost every single day, and there was also blazing sunshine every single day but it wasn't hot – it was way colder than the long-term average. May came along and it was one of the wettest long-term average months that there has ever been. And yet May last year was the sunniest month of all the months ever recorded in England. It's climate chaos and each year will be a challenge.
"Portugal is one of great unsung heroes of European wine."
Other countries will suffer very badly. We will be seeing more wines from countries which are able to cope better with heat – more wines from Portugal and the middle of Italy. Portugal is one of great unsung heroes of European wine and we're seeing a lot of extremely good wine now coming out of Chile and Argentina.
What have been some of your favourite food and wine trips for groups?
The Moselle Valley in Germany, from right down in the Luxembourg border and up to Koblenz and, if you feel like it, go on down through the middle of the Rhine to Bingen where the river makes that wonderful curve around, then head on down the Rhine to Basel. But the really glorious bits are the Moselle and the Middle Rhine.
I'm always fond of the trip from Budapest to Ravensberg but that's partly because every single place you stop off at has a brewery and the boat normally stops at Kelheim, the home of Schneider Weiss (brewery) which is absolutely one of the greatest wheat beers in the world. The Schneider restaurant has the best dumplings you will ever, ever eat. Talk of Heaven on Earth!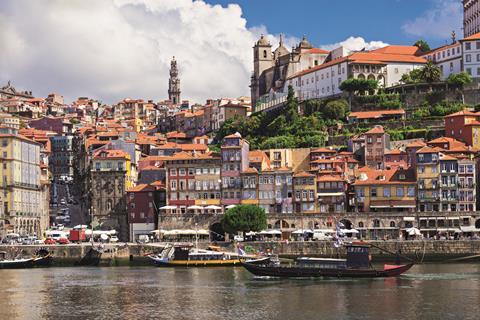 The Douro Valley in Portugal is fantastically dramatic – the locks you go through are probably some of the deepest that any passenger boats will go into anywhere in the world, they're truly awesome. The river Douro itself is now a UNESCO site and you can go right up to the Spanish border and to Porto.
Take the train up to Regua, halfway, and sit on the right hand-side as you'll get the most wonderful period of time when the train is running along at the side of Douro Valley. Sometimes they still run the old trains with open doors and you can sit there with a bottle of Tawny Port in your hand and your feet dangling over the edge virtually in the river Douro itself – fabulous!
What are your top tips to surviving a group wine tasting?
The one thing I'd say, if you are going to eat and drink too much, and you probably are, is to keep drinking water. Whenever you see a glass of water drink it, because it is a simple thing.
"Sometimes I'm absolutely on fire as a taster and sometimes I can't tell the difference between a haddock and a banana."
I would also say, if you can, get a decent night's sleep. If you get eight-to-nine hours' sleep you're much better at the bar the next day. Not only that, your palate will be better, too, because if you're tired your palate suffers. Sometimes I'm absolutely on fire as a taster and sometimes I can't tell the difference between a haddock and a banana.
How can people improve their wine tasting skills?
Being happy and well rested is one of the best ways to be a better taster because you have to concentrate to taste well. Just put the wine in your mouth, give it a few seconds, give it some respect.
Breathe in and out a few times, let the wine warm up and let all those aromas go up into your nasal cavity because that's where it all happens – none of it happens in your mouth. Shut your eyes. With a little bit of concentration, it's amazing how much more flavour you can get.
What's your secret to a happy life?
Drinking water and sleep! I'm a happy sort of fellow, an optimistic kind of chap and I'm amazingly glad to be alive in this life and time of ours, despite the last 18-plus months.
We've had a wonderful period of being alive in the last 50 years and despite its ups and downs it has actually been a lucky time for those of us in northern Europe to be alive.