A bewitching experience that will leave you questioning alien existence and human imagination, says Laura Sexton after reviewing the show at The Ambassadors Theatre in London.
The Twilight Zone, based on the stories of Rod Sterling, Charles Beaumont and Richard Matheson, has been adapted for the stage and the result is nothing short of brilliant. The whole experience, from start to finish, is one of the most bizarre I've witnessed in theatre, though among the best.
For those unfamiliar with The Twilight Zone, it was originally a television show on the CBS network in America in which each episode would include an anthology of eerie tales which, more often than not, revolved around aliens, the paranormal and the power of the human mind. And this play succeeds in bringing those tales to life.
The cast, which is made up of ten individuals who play different roles throughout, provide the audience with two hours of thought-provoking, and at times otherworldly, performances which have you throwing your head back with laughter and at other points clinging to the edge of your seat in suspense.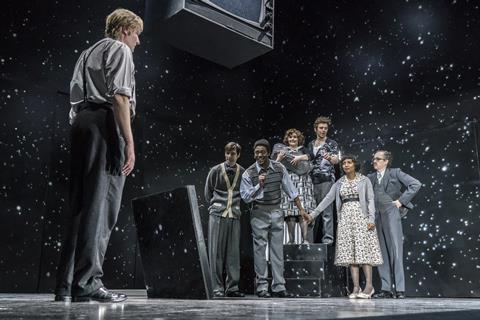 Oliver Alvin-Wilson, Natasha J. Barnes, Adrianna Bertola, Dyfan Dwyfor, Alisha Bailey, Daniel Crossley, Neil Haigh, Nicholas Karimi, Matthew Steer and Lauren O'Neil are faultless at becoming the characters whose stories they tell.
The storylines (and there are plenty of them) are easy to follow and despite not beginning and finishing simultaneously, they do not lose you. From a man who refuses to sleep due to his horrendous dreams, to a woman encountering her former self and a young girl lost in another dimension, each second of watching The Twilight Zone has you gripped.
One of the fantastic things about the play is the scenery and the way in which it is utilised. The entire background remains dark with twinkling stars, meanwhile the cast shift doors around, swirl hypnotising images, and effectively transport you into an unimaginable realm. In fact the whole show ends up feeling like you've been trapped inside a strange illusion as people wearing peculiar masks dance before you and the impossible suddenly becomes the possible.
For audiences who enjoy a standard structure of a play which involves a beginning, middle and end, The Twilight Zone may leave you feeling a little uneasy. With so many plotlines all interchanging and some being left unsolved, this show is certainly not one to conform to the norm. With that being said, the power in the subliminal messages this play presents is enormous and leaves you asking more questions than having them answered but in the best possible way.
It opens up a world of possibilities and theories such as 'just how powerful is the human mind?' and 'are we truly alone in this universe?' that you feel like you've just enrolled on a science and philosophy course, and exit the theatre fascinated by the thoughts you may never have questioned before.
For anyone who wants to experience something different, I cannot recommend The Twilight Zone enough. There are no cliché characters or predictable scenes and certainly no ordinary script. Instead, you'll spend two hours consumed by a set of intriguing and cleverly written stories, which are portrayed equally as brilliantly by its impeccably talented cast. You'll be mesmerised, hypnotised revolutionised as you enter… The Twilight Zone.
Ticket information:
The Twilight Zone is currently playing at The Ambassadors Theatre in London. Group rates are available on bookings for parties of 8 plus on Monday-Thursday performances. For more information call 020 7359 4404.