Classic R&B records are reunited with their theatrical roots in a new concert-style musical, led by West End icon Beverley Knight.
The show finds its unsung hero in a truly under-appreciated pioneer of the US music industry. An assertive African American businesswoman, Faye Treadwell was the backbone of the all-male vocal group The Drifters, managing them for over 40 years. Treadwell, the 'Drifters girl', navigates the group through personal tragedy and a carousel of line-up changes, at a time when both her gender and race were heavily militated against her.
In this musical, the music is everything – how cliché, I know - but in this case, there really is no better review. What the show excels at is how it creates a thoroughly entertaining and authentic concert experience – and, given the musical heavyweights it must emulate, this is no mean feat.
The famous foursome – played on stage by Matt Henry, Tosh Wanogho-Maud, Tarinn Callender and (in this performance) Michael James Stewart – deliver impressive versions of the band's back catalogue. Hits including Under the Board Walk, Sweets for My Sweet and Kissin' In the Back Row of the Movies are rendered by four remarkable voices, which, together, create the most gorgeous harmonies. Coupled with a number of powerhouse solos from Beverley Knight (Treadwell), The Drifters Girl takes every opportunity to show off its cast's vocal gifts.
Knight's presence and wealth of experience on the West End stage is keenly felt, and it is her confidence in her portrayal that drives the plot forward. Much like the show's overarching narrative device of an older Treadwell recounting her life-story to her young daughter, when Knight speaks to the audience it is with a mothering calmness – a much needed counterbalance to the heavy themes of sexism and racism raised throughout.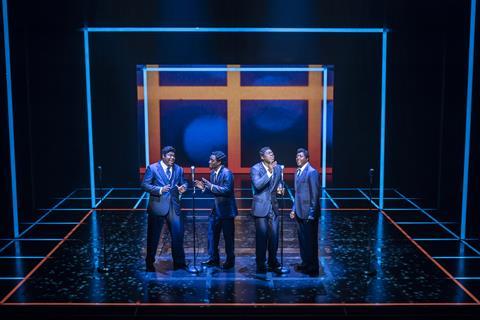 Over a period of 60 years, the 'Treadwell Drifters' had more than 60 members and the show attempts to give us an impression of each, with the ensemble cast shapeshifting in and out of a multitude of characters.
Throughout the show we meet former Drifters' legends Clyde McPhatter and Rudy Lewis, and are treated to an intimate performance by Ben E. King, embodied by Wanogho-Maud, with his rendition of Stand By Me. At times, the character changes are a bit of a whirlwind, weakening the clarity of the show's narrative and leaving us, sadly, dizzied and quite disorientated. However, the musical does provide ample room for its cast to show off their elasticity as actors - and what a joy it was to be in the same room as so much talent.
Speaking of indulgence, director Jonathan Church doesn't hold back on matching a quality cast with an equally high production value. Anthony Ward takes a modern and minimalist approach to staging. Layering a dark, textured background against ever-changing neon pipes, Ward recreates the bar and private club scene that played host to a lot of the band's earlier work. What's more, with Fay Fullerton's highly polished couture, it's a show that definitely looks the part.
Ultimately, this is a production that draws its strength from the quality of its widely adored numbers and its confident, charismatic performances; and for long-time fans of the classic R&B songbook, The Drifters Girl is an obliging trip down memory lane. But more than anything else, the show delivers on what its title promises: a celebration of a timeless band and the woman who secured its legendary status.
The Drifters Girl is playing at the Garrick Theatre, London and currently taking bookings until 12th February 2023. There are discounted rates for groups of eight or more people.

Joanna works as a journalist across a range of titles produced by Yandell Publishing. She enjoys theatre and visiting places that inspired her literary heroes.