Attitudes towards fast cars and gender politics may have evolved since 1990 but top-notch performances, lots of laughs and stand-up-and-dance ovations are still very much in fashion.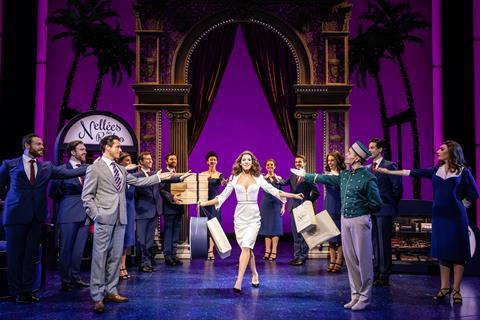 The 1990 box office hit Pretty Woman starring Richard Gere and Julia Roberts was the classic, if somewhat unconventional, fairy tale of its day. Set in 1980s Hollywood, it recounts the relationship between ruthless billionaire Edward Lewis and Hollywood hooker Vivian Ward.
Newly single and in need of a companion for business engagements, Edward hires Vivian as his 'beck-and-call girl', installs her in his rooftop penthouse at the Beverly Wilshire Hotel and eventually rescues her from her downtrodden, seedy life.
Playing the suave tycoon Edward, Danny Mac oozes charm and confidence. His Lotus Esprit – the car that first attracted the attention of Vivian and featured heavily in the film – is absent on stage, so the scene in which the pair first meet is reimagined on a bench against a neon backdrop of the Blue Banana Club.
Meanwhile, Aimie Atkinson's Vivian may lack the awkward fidgetiness of her on-screen counterpart but more than makes up for it with vocals that belt out numbers including I Can't Go Back, after the couple's first kiss, and Three Thousand Dollars, just two of the stand-out songs written by Bryan Adams and Jim Vallance.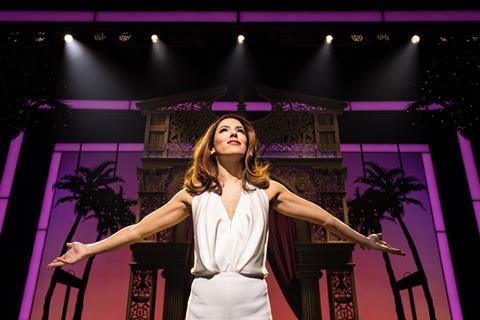 Where the film zones in more on the fairy tale narrative of its lead characters, Garry Marshall's and J.F. Lawton's book amplifies more minor parts, propelling them into starring roles and it's these who make the show.
Notably, Bob Harms as the hotel manager and closet ballroom dancer who, alongside bellboy Giulio (Alex Charles), camps up a panto-esque performance of wit and comic timing, the pair's working relationship and chemistry almost a romcom in itself. Harms doubles as a narrator, Happy Man, and plays a hilarious cameo as the shop manager in the "sucking up" scene where Edward spends an "obscene amount" of money on clothes for Vivian.
Also stealing the limelight is Rachael Wooding as Vivian's room-mate, Kit De Luca, whose rendition of Rodeo Drive against the palm-tree backdrop of Hollywood Boulevard is an outstanding performance, as is Never Give up on a Dream performed alongside her fellow street crew.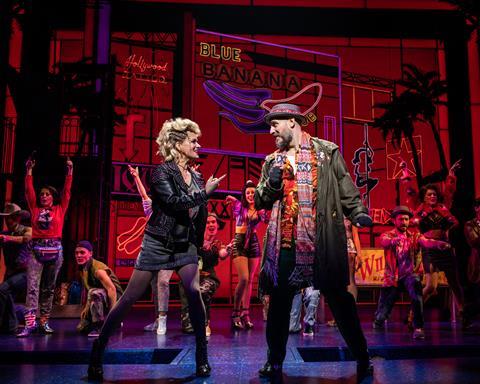 Nonetheless, some of the more memorable scenes from the film which bring Vivian's character to life are brilliantly recreated on stage: Vivian in the bathtub singing loudly (and badly) to Prince on a Walkman; her shrieking with surprise when the necklace box snaps shut as she reaches out her hand; and her "somebody pinch me" shock of the three-thousand dollar deal which she sings while dancing around the penthouse, jumping on the furniture like an over-excited child.
Costumes are deliciously 80s retro, from Vivian's barely-there call-girl outfit replicated from the film when she first meets Edward, to the sea of ice-washed denim and garish Lycra worn by her and Kit's street-dancing peers.
It's somewhat disappointing though, in 2021, that she still needs rescuing by a knight in shining armour, who scales the fire-escape to her top-floor apartment, whereupon she must wave farewell to her sassy mates.
As the performance closes, Roxette's It Must Have Been Love which played out the film is shelved in favour of Roy Orbison's title track Oh, Pretty Woman. Egged on by Kit, the performance brings the audience to its feet, singing and dancing. I'm not going to lie, I joined in.
For me, the subject matter may have aged less prettily than Richard Gere (and that's saying something) but the audience seemed unfazed. If you're a fan of nostalgic romcoms, fairy tales and wry humour, chances are you'll find a lot to enjoy.
Pretty Woman the Musical is playing at the Savoy Theatre, London and is currently booking until April 2022. Special benefits, such as hospitality packages, are available for groups of ten or more.