Practically perfect in every way, the revival of the much-loved Mary Poppins story comes with an extra spoonful of sugar.
"S…u…p…e…r", the murmurings were heard around the theatre before the curtain lifted. It's a bit of a rite of passage - or certainly was when I was growing up, to be able to spell the magical word from the world of Mary Poppins.
But how about spelling it backwards? Of course Zizi Strallen (Mary Poppins) has cracked it - along with much more, she's "practically perfect in every way". As is the musical which is back at the Prince Edward Theatre to dazzle audiences once again, 15 years after it graced the same stage.
Complete with our favourite catchy melodies including Chim Chim Cher-ee, Jolly Holiday and of course Supercalifragilisticexpialidocious there's an air of magic and excitement before the action even begins. I'm not alone in being brought up with the story of everybody's favourite nanny. And the musical doesn't disappoint - just don't even try to figure out how all of those things are kept in her small bag.
"Zizi's Mary is truly mesmerising, she oozes precision and perfection throughout, from her flawless vocals to the stunning costumes along with her impeccable delivery."
It's no wonder producer Cameron Mackintosh wanted her back for the lead role after she wowed audiences in the recent Mary Poppins tour. The chemistry between her and Bert (Charlie Stemp) is enough to warm your cockles, even on a cold Monday night in London. The pair seem to fly around the stage with boundless energy and infectious smiles.
It's not long before we, along with a young Jane and Michael Banks, are transported from the dark, miserable setting of 'the park' to a set bursting with colour, music and characters; even the statues come to life. As Mary and Bert tell the children, "anything can happen if you let it".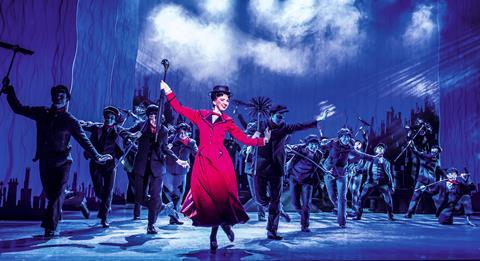 The story is familiar, the characters are just as heart-warming (perhaps more so) but there are some lovely surprises throughout and what I hadn't quite prepared for was what it would do for my imagination, particularly watching as an adult. You can't help but smile as the legendary Mrs Corry's secret shop of conversations comes to life amid the trees. Her skirt is made up of trays of cakes - need I say more?
But the biggest smiles of the night seemed to be for two particular stars - the young Jane (Adelaide Barham - who I had the pleasure of meeting at the train station afterwards) and of course Michael, performed brilliantly by the very talented Gabriel Payne.
With almost three hours on stage it's no surprise that we were all in awe of their performances with both having the precise dose of cheeky, sweet, mischievous and loveable for the perfect Mary Poppins magical recipe. All helped down with a spoonful of sugar, of course.
The truth is there were so many strong performances, it's hard not to mention them all; I loved watching the relationship between George (Joseph Millson) and Winifred Banks (Amy Griffiths) unfold throughout; George's impeccable appearance dishevelling as his heart gradually melts.
Mention must also go to the housekeeper Mrs Brill (Claire Machin) and her suffering sidekick Robertson Ay (played by Jack North) who performs a stand-out scene in the kitchen when the cake baking goes horribly wrong (or amazingly right, because everything depends on your point of view, don't forget).
Also impeccably precise and mesmerising are the set changes as the interchangeable 17 Cherry Tree Lane is wonderfully transformed; one moment we're in the nursery as the toys come to life, the next we're up on the rooftops looking at the stars, being swept away with the chimney sweeps.
The use of projections work wonderfully throughout, especially in The Bank, and of course, with it being Mary Poppins there are plenty of breathtaking moments to delight (I won't ruin any surprises).
It's more than 50 years since Cameron Mackintosh fell under Mary Poppins' spell and just as her story has captivated children and families for decades, I've got a hunch that's not going to change any time soon - and it seems an ideal time for escapism in its best form, especially with the new Mary Poppins film out recently. Which means I've got plenty of time to practise…."S…u…o…i"

Keeley is the editor of Group Leisure & Travel and its portfolio of magazines, publications and websites.