With its dazzling special effects and charming ballads, Disney offers a familiar and altogether magical adaptation that wraps its audience up in a long-awaited warm hug.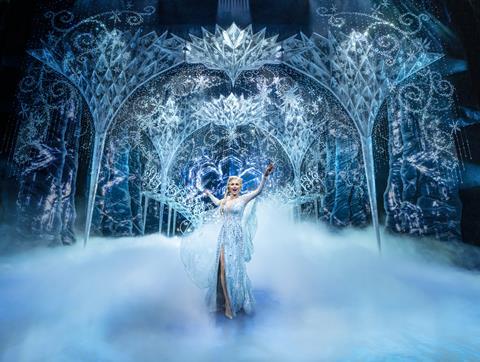 After a bleak winter for theatre, the sight of little Annas, Elsas and Kristoffs wiggling excitedly in their gigantic seats was as heart-warming as the show that followed.
If, like Kristoff, you have been living in the mountains your whole life and haven't heard of the multi-award-winning, box-office-record-breaking film, here's a quick recap.
Inspired by Hans Christian Anderson's The White Queen, the story follows a princess (Anna) who sets off on a journey with an ice-seller, his pet reindeer, and a snowman in search of her sister (Elsa), whose supernatural powers have accidentally plunged their kingdom into an eternal winter. Along the way, the siblings learn the meaning of true love and rediscover their bonds of sisterhood.
Aside from a few seemingly off-the-cuff remarks by the brilliantly surreal Olaf, Jennifer Lee's screenplay was faithfully brought to life. Little ones mouthed along to their favourite lines and bigger ones appreciated the cheeky innuendo and wordplay that they may not have noticed the first time around.
The musical masterminds behind the film, Kristen Anderson-Lopez and Robert Lopez, also return with welcome additions to the soundtrack. A Little Bit of You and What Do You Know About Love? are crucial to developing their singer's wants and desires, especially when a movie montage just isn't possible.
Christopher Oram's eye for colour is impressive as the designer reimagines the palette of the film without losing its Disney feel. Oram quite literally is a man for all seasons, employing contrasting forms of lighting and staging to divide the summer and winter climates. Love is An Open Door, for instance, is a kaleidoscope of colour that captures the excitement of Anna and Hans' whirlwind "romance", while the finale's blanket whiteness accommodates one of the show's most interesting bits of choreography, in which the ensemble embodies the snowstorm.
Anna, portrayed by Stephanie McKeon, is as goofy as her animated counterpart. McKeon's comic timing is perfectly cartoonish; a skilled performance that avoided overcooking hammier numbers like For the First Time in Forever. Yet, when the story moves into darker territory, such as the confrontation on the frozen lake in the show's finale, McKeon easily matches Samantha Barks (Elsa) in melancholy.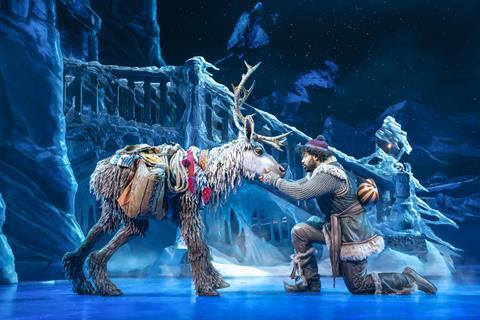 Anna's sidekick, Kristoff – played by Obioma Ugoala – is clumsy and frank, but totally endearing. As he cuddles up to Sven, a wonderful piece of artistry controlled in this performance by Ashley Birchall, his charming little ditties are performed with a sensitiveness that plucks at our heart strings.
Helped by some other clever puppetry, Craig Gallivan morphes, slightly disconcertingly, into everyone's favourite snowman; delivering his iconic lines with timing that would give Josh Gad – Olaf's voice in the famous franchise – a run for his money.
Pleasantly enough, the show didn't rely on Olaf's bizarreness for all its laughs. An underrated character in the film, the Duke of Weselton, played by Richard Frame on stage, was an unexpected star of the show. Frame gives a very physical performance, cutting shapes across the boards as the tame counterpart to Oliver Ormson's duplicitous villain (Hans).
As the end of the first half drew closer, the anticipation in the room was palpable. The whole act felt like it was building to its showstopper and when it came, it was spectacular.
Let It Go was a stand-up-and-clap performance. West End royalty Samantha Barks takes the ice queen's power ballad somewhere new. She adds a layer of intensity that isn't captured in the film and the set around her is more than just a cool lights display, it's a fully-fledged frozen wonderland. Throw in a floating cloak and a breath-taking costume change and you've got yourself a thrilling piece of theatre.
It's true, the show does owe a lot to its predecessors, with its similarities to that of Stephen Schwartz and Winnie Holzman's Wicked being like Elsa and Anna themselves, closely related. Nonetheless, it's certainly one that both theatregoers and fans of the film, of all ages, are guaranteed to enjoy.
In my case, it was an experience I'll be telling all my friends and family about for the next few months at least. What can I say, I just can't let it go.
Group rates for Frozen the Musical at London's Theatre Royal Drury Lane are available for nine or more people, with further discounts for groups of 20 or more people. Group bookings are valid on Wednesday and Thursday 7pm performances and Thursday 2pm matinees. The show is currently taking bookings up until June 2022 and more information can be found at frozenthemusical.co.uk/groups.