Fascinating effects and classic one liners, fused together with new and iconic tunes, offer fans that fun piece of nostalgia that many will have been craving.
There's an old saying that classic films and stories should be left untouched but the buzz around London's Adelphi Theatre gave the impression that something special was about to happen, and it did.
Set in the Californian town of Hill Valley, the show of course follows the story of Marty McFly and his journey back in time to 1955 to rekindle his parent's love and change his family's own destiny forever.
Bob Gale (who wrote the iconic 1985 film with Robert Zemeckis) produced the script and keeps the best lines from the original, which are still met with laughter. But the cast is at its funniest when the new lines are given a chance; Doc Brown at one point referring to a dream where the year 2020 has no disease – I'd jump in a time machine to get to that, wouldn't you?
Olly Dobson's portrayal of Marty McFly is a good one, which is not an easy thing to achieve when everyone is comparing you to Michael J. Fox. The Englishman nails the American accent and is incredibly likeable from the off, raising his eyebrows slowly before thrashing down on his electric guitar at full volume, sending sparks flying and the set into disarray.
Likewise, Hugh Coles' version of George McFly is beautifully crafted from his counterpart in the film, with amusing dad dancing and nerdy gestures aplenty. Rosanna Hyland's Lorraine (Marty's mum) is just as charming, paired with an excellent vocal range, especially in Pretty Baby.
Back to the Future the Musical offers everything which makes the film timeless, plus a little bit more thrown in for good measure.
Roger Bart's Doc Brown, played by Christopher Lloyd in the film, is very funny. He is possibly one of the only performers who brings fresh elements to his character. He definitely possesses some of Doc's classic qualities, but gives us something more. His delivery and timing is on point throughout, in fact portraying the Doc as an even bigger lunatic than the loveable character we are familiar with. He's loud, obnoxious at times and shares countless moments of sheer brilliance.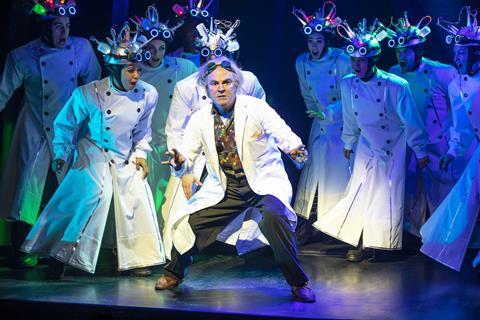 The addition of 16 new songs (music and lyrics by Alan Silvestri and Glen Ballard), blended in with the likes of The Power of Love and Johnny B. Goode means nostalgics get everything they hoped for, including the outrageous dance moves and ridiculous guitar solo from Marty.
But newcomers and fans of the original film also have a fresh score to appreciate, even if some of the melodies include ropey lyrics. Who would have thought you could rhyme so many words with the phrase 'do you want fries with that?', but hey, it's all good fun.
The Enchantment Under the Sea dance feels even more romantic than the film with lavish ensemble routines, pink mood lighting and bubbles that rain down over the audience as George and Lorraine share a first kiss and save their future family.
Meanwhile, the band perform a graceful rendition of Earth Angel (Will You Be Mine) underneath sea creature buntings and nets to produce an idyllic environment for the intimate moment. In fact, all the sets, including Doc's house, the 1950s mint green diner and the barn in which Marty crashes Doc's DeLorean time machine car are stunning and expertly presented.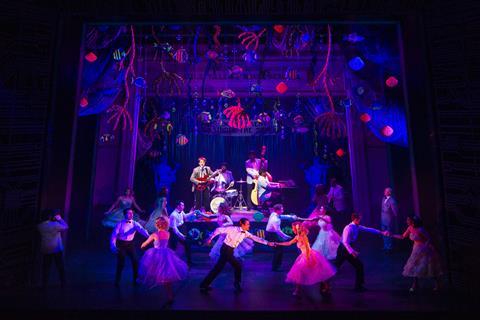 It was a bold decision to move a film with so many settings and time periods to the theatre, not to mention a time machine made out of a DeLorian. I mean, just how do you get the infamous car up to 88mph on a stage?
The car's journey through time, matched with the unforgettable theme tune in the 1985 motion picture is arguably the best part of the story and I didn't want that vision shattered. Once again though, the car easily steals the show thanks to clever lighting, a rotating device and a selection of screens to give the illusion of speed while revving sounds can be heard and tyres screech until it reaches that all important number. For me, the show offers everything that makes the film timeless, plus a little bit more thrown in for good measure.
It was a night at the theatre that brought back excitable recollections from the first time I watched the film with my father. However, my new experience of this captivating musical may have just topped the list when I look back in the future.
Back to the Future The Musical is playing at the Adelphi Theatre, London with discounts available for groups of 8+ and 20+.

With a love of journalism and travel, Harry enjoys writing about his experiences for GLT readers to use as inspiration. Brighton, Dublin and Amsterdam are among his favourite cities to visit and he enjoys delving into historical sites too – especially those linked to the Tudors and World War Two.