Andrew Lloyd Webber's newest triumph Cinderella is set to be a classic, with powerful ballads, fabulous costumes and quick-witted humour.
It's been a long, hard slog to get Cinderella up and running on the West End stage having been delayed by a year due to the pandemic, but it's more than worth the wait.
Set in the idyllic surroundings of Belleville, we learn that Cinderella is a loud-mouthed, so-called yob who likes creating problems for the town's aggressively perfect inhabitants. She's misunderstood and a far cry from the sweet and innocent girl portrayed for generations.
Her only friend is Prince Sebastian, a shy and geeky fellow who is thrust into the limelight and forced into a royal wedding with anyone he chooses, after his much tougher brother Prince Charming is killed at war. The story revolves around his affection for Cinderella, even if buff swordsman, wretched women and forceful parents refuse to let their true feelings blossom.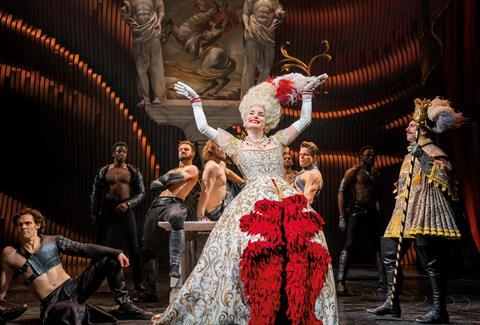 The Gillian Lynne Theatre, previously known as the New London, has an incredibly intimate feel, allowing the audience to connect with the characters from the off, even if Carrie Hope Fletcher and Ivan Turco aren't present as the lead twosome on the night. However, regular understudy Georgina Onuorah and ensemble member Michael Hamway both shine, proving that whenever you see the spectacle, you're in for a treat.
Onuorah is feisty in the title role, showing a devilish streak but also a sense of vulnerability when around her love conquest, Sebastian. Her voice instantly strikes a chord when introduced in Bad Cinderella, again reiterating that she's fine with being the outsider: "Call me bad Cinderella, nasty girl, gutter rose. Your unkindness doesn't shock me". The song is annoyingly catchy, one gentleman even giving his own rendition up the aisle when leaving his seat at the end.
Hamway does a superb job in making his character's awkwardness prevalent throughout, and vocally glows when reaching the crescendo of Only You, Lonely You. Lloyd Webber clearly hits all the right notes in the music department once again, with the song receiving one of the biggest cheers of the night, and rightly so.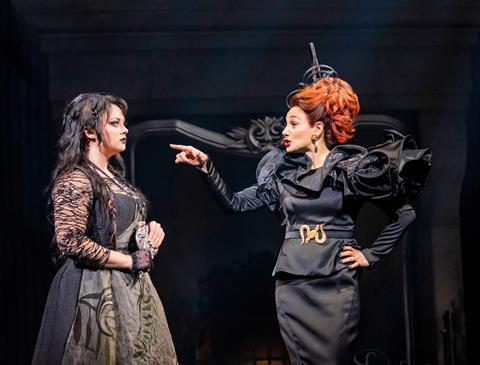 Lavish costumes are in abundance with highlights including The Queen's frocks (which seem to get wider at the hips every time we see her), The Stepmother's silky black dress, or Cinderella's change from grubby scullery maid to the most beautiful girl at The Ball in her sparkly, ice-white gown.
Her transformation scene, which features the excellent Gloria Onitiri as The Godmother, is a deranged but wonderful piece of theatre, as screens create lighting shadows to produce a rather unhinged process of 'fashion surgery' as she picks up a hammer and gets to work ("You want some curves? Let's break a rib or two"). Human manikins wearing dainty dresses dance to the beat like something out of Doctor Who which just adds to the tension.
A special mention should also go to the hysterical Victoria Hamilton-Barritt and Rebecca Treharn who link up fantastically as The Stepmother and The Queen respectively in I Know You. Their timing is perfect as the monarch is threatened with her past exploits if she fails to pair her son with one of The Stepmother's bratty, precocious daughters Marie and Adele (Georgina Castle and Laura Baldwin). The duo hilariously reminisce about old times, Hamilton-Barritt screaming "so many men" at one point to the dismay of Treharn's scatty take on The Queen.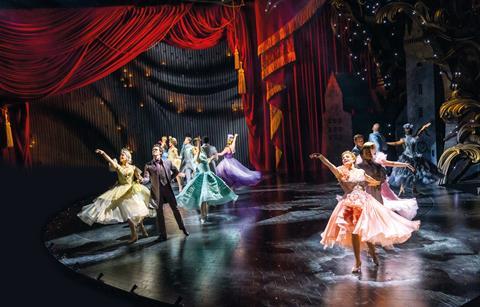 This is the 21st century story of Cinderella which tramples all over dated stereotypes. But whether it's the story book you have on the shelf at home, the multiple film remakes or even the classic pantomime you see every year, The Royal Ball is always a magical moment and one which this production does so beautifully.
Twinkly star lights fill the venue, generating a romantic vibe, as the rest of the cast uses every inch of space to waltz while Prince Sebastian fends off an onslaught of uninteresting women. Cinderella's entrance is just as special, with spotlights highlighting her features which draw the attention of the room.
Cinderella is a fun and much-needed recreation of the iconic tale that is sure to appeal. It's garish and mightily over the top but hey, when is musical theatre not? A word of warning after your visit, be prepared for its magical effect and catchy tunes to last well beyond midnight.
Cinderella is playing at the Gillian Lynne Theatre in London and is currently booking until May 2022. Group rates apply for ten or more people.

With a love of journalism and travel, Harry enjoys writing about his experiences for GLT readers to use as inspiration. Brighton, Dublin and Amsterdam are among his favourite cities to visit and he enjoys delving into historical sites too – especially those linked to the Tudors and World War Two.