Laura Sexton speaks to Liz Cawdell about her experience in the group travel industry and how it inspired her to become a group organiser.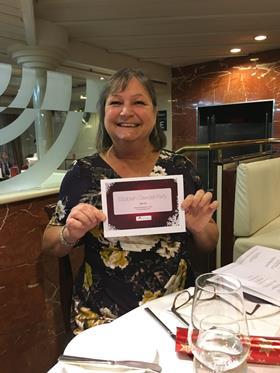 First of all, can you tell us how you started organising group travel?
Word got out that, prior to retiring, my career had included seven years on the entertainments team on board cruise ships, various roles over the years in public relations, event management, retail travel and inbound/outbound group travel. So, when the GTO vacancy came up on the committee at Heybridge U3A, I didn't duck quick enough!
Tell us a bit about the demographics of your group.
Our members, in line with the U3A ethos, are retired or semi-retired and as a result are mostly in their 60s and 70s. They are certainly not lacking in energy though. When organising, I make sure that the outings and trips are fully accessible to all.
What types of trips do you like to organise?
Apart from historic houses, museums and gardens, I like to find quirky, behind-the-scenes trips that the general public are usually unable to visit. I always fit in an 'Invitation to View' trip each year where we are shown around the most beautiful houses, usually by the owners who are so passionate about their buildings.
We also recently had a very interesting, local trip to the Brickworks at Marks Tey where building bricks have been made by hand since 1863 carrying on a tradition first introduced by the Romans when Colchester, the nearest town, was their capital.
Your list of trips is extensive. What were your highlights of 2018?
The highlight would have to be our peek behind-the-scenes at Wimbledon. Visiting the Centre Court, seeing the trophies and being astonished by the amount of passion and hard work that goes into getting the grass looking perfect was an eye-opener. The grass is torn up at the end of each Wimbledon fortnight and totally re-sown ready for next year!
We also had a very poignant visit to The Poppy Factory in Richmond - we even made our own poppies. Another hit was the overnight Festive Dinner on board Cruise & Maritime's cruise ship, the Magellan. For many of our members, it was their first taste of shipboard life and I'm hoping very much that I can extend this opportunity into a cruise in 2020.
Other trips include Kensington Palace, Bletchley Park, Sandhurst Military Academy, the Magic Circle headquarters, a walking tour of Jewish London, the Postal Museum and Hever Castle.
What trips do you have lined up for the future?
In February we are visiting Queen Elizabeth 1st's Hunting Lodge at Chingford followed by The Guide Dog Training Centre in Redbridge. April sees us visiting Anne of Cleves House in East Sussex Our 'Invitation to View' property this year will be Earsham Hall in Suffolk.
A 'Jack the Ripper' day is planned for October and in November we will visit Bury St. Edmunds' Christmas Fair.
I'm also planning a trip to Belfast in September to visit the Titanic Exhibition. For 2020, I am organising a long-weekend in Holland, taking in the Keukenhof Gardens, Delft and Amsterdam. I lived in Holland for seven years and would like to introduce my members to the beauty of this gorgeous country.
How do you get your ideas for your trips?
The Group Leisure & Travel Show in October is a marvellous opportunity to gather ideas for trips and network with other GTOs. I also jot down ideas as they occur to me and our members often suggest places they would like to visit. I tear out pages from magazines, keep an ear to the ground about new openings reported in the newspapers or on the television. Fam trips are also useful as you get a chance to check out destinations and quiz the organisers before booking.
What advice would you give to fellow group organisers looking to book travel?
Be organised and check every little detail. I always mentally go through the day from start to finish to make sure that I haven't forgotten anything and always check you have all the telephone numbers you might need during the day.
What is it about organising group travel do you enjoy the most?
I love the organising and bringing a trip to fruition from the initial idea to the moment we get home. The icing on the cake is seeing everybody get off the coach at the end of the day with big smiles on their faces, looking forward to the next trip. 'Tired but happy' is what I aim for.
Liz Cawdell at a glance…
Name of group: Heybridge U3A
Number of members: 160
Length of time organising: 4 years
Favourite destination: Venice