GLT attended a special viewing of the new Queen's Diamond Jubilee Galleries at Westminster Abbey in London, which are full of the most fascinating artefacts. Rachel Bailey reports.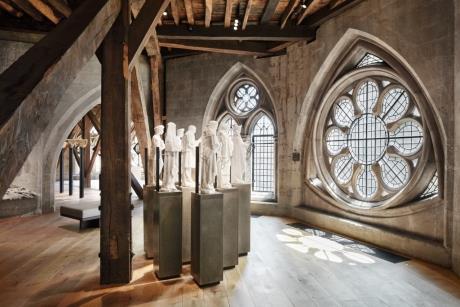 You might think 108 stairs sounds like a few too many for comfort, but I promise you the climb is worth it. At the top of these stairs, which begin in the abbey's Poet's Corner, you'll find Westminster Abbey's latest addition: the Queen's Diamond Jubilee Galleries. And wow, are they are something to shout about.
The galleries are in a rather unique exhibition space; the abbey's Medieval triforium, which runs 70 feet above the abbey floor and has been hidden to the public for over 700 years.
If you've ever been to Westminster, you'll know it's impossible not to look up and marvel over the magnificent architecture – but I would never have known that such an expansive and interesting space existed high above the heads of visitors.
It was quite an experience to head upstairs for the first time, to be right above the 13th century abbey's quire and nave, and to able to enjoy what I can only describe as quite an astounding view of the abbey's interior, complete with its beautiful kaleidoscopic stained-glass windows.
An attic of a different kind
To enter the new galleries is quite like entering what you think will be a dusty attic full of old artefacts, only to find that the attic has been totally spruced up and filled with dazzling displays. In fact, in a welcoming speech to the travel trade during the visit, Tony Trowles, the head of the abbey collection, acknowledged that the space has only been used for storage for some time. Not that you'd know it, from its new look.
Westminster Abbey has put together a marvellous collection of treasures including royal funeral effigies, manuscripts, silverware, stonework and vestments. There are lots of clothing examples, paintings and drawings. And you'll get to see the royal marriage licence for HRH Prince William and Catherine Middleton, on display for the first time.
Plus there's Europe's oldest stuffed parrot; the Westminster Retable, said to be England's oldest altarpiece; and the Liber Regalis, a 14th century illuminated manuscript setting out the order for Coronations.
It's all very royal with plenty for history buffs, but also quite mysterious. Low lights, dark wooden beams, ceramic figures hugging each ceiling corner all against a backdrop of dramatic stonework and sculpture really does make this quite an enchanting experience.
And with the galleries officially opening to the public on Monday 11th June, you won't have to wait long until you can experience it all for yourselves.
Group booking information
It's hoped that an official group offering will be confirmed in due course; however, groups wishing to visit the new space before then can turn up on the day to Westminster Abbey and book at the office on arrival.
Parties will be split into groups of six people to avoid overcrowding – something that I'm sure will be appreciated, to ensure the Jubilee Galleries' have their contemplative atmosphere maintained, no matter how busy it may be.
On a general visit, private guided tours for up to 30 people can be taken during normal opening hours and the abbey recommends these should be accompanied by a Blue Badge Guide. GTOs can book a Blue Badge Guide through Guide London, or the British Guild of Registered Tourist Guides.
Find out more by visiting www.westminster-abbey.org.