GLT speaks to the actor about performing his dream part in the hit musical which is currently playing at the Apollo Theatre in the West End.
Layton, you're new to the show, how has it been going?
I'm in my fifth week now which is wild to me and I can't believe how quickly it's gone. I'm just pinching myself and making sure I enjoy every single minute. I'm honestly living the dream, I'm walking down the street skipping.
For people who aren't familiar with the story, tell us what it's all about.
Everybody's Talking About Jamie is a show about a 16-year-old boy from a council estate in Sheffield who has a dream to one day become a drag queen. He stumbles across a drag queen shop and forms a great friendship with the shop owner, Hugo, played by Shane Richie. From there he decides that he's going to go to prom in a dress.
But it's not all so glamourous; he has a difficult relationship with his father, so there's a little bit of drama – but what musical doesn't have a bit of drama? By the end you see how he becomes comfortable in his own skin. It's a show about acceptance and being who we are.
Tell us about Jamie's character.
Jamie is very out there; he's fabulously flamboyant but has a heart of gold and is very caring. But he does have this underlying feeling of, what I'd call 'sad-happy' all the time, which is because of his relationship with his dad. He longs for a love which he may never get.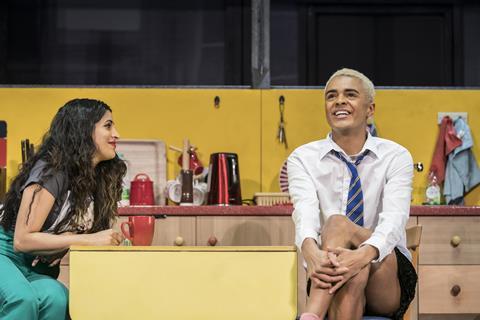 As an actor, to be able to play a character like this is great. But don't worry, by the end I'm kicking and screaming and everyone has a good time.
What is it about playing him that you love the most?
I love that he goes on a journey and has a vulnerability to him besides just being fabulous. Everyone knows that side but it's wonderful to see something different to what you might expect.
You've played Billy Elliot on the West End stage and have been on TV shows. Which do you prefer?
Billy Elliot was actually my first job! I've now been in the business for 12 years but to be honest I still feel like I'm just starting out and still really young in this industry. But this is my first role in the West End as an adult.
I've been very lucky to do a bit of stage and television though and I do get excited for what's to come. I'd like to get back behind the camera but the stage was my first love, so it'll always be something I'm comfortable in.
"Expect to laugh out loud, but also bring a tissue because you might have a little cry."
What influenced you to become an actor?
It wasn't so much about being influenced; I just sort of fell into it. But I admired Michael Jackson and his incredible dance videos and even the Spice Girls - I mean they were just so iconic!
Do you have a favourite part of the show?
One of my favourite moments is the Spotlight scene, because of the music and the feeling that Jamie is having at the time. He's saying "I'm going to do this, I'm going to be proud and I'm going to snatch this dream" and I always feel it in my deepest soul.
I love the finale too because when I take my final bow, I always think to myself "how is this happening to me?". Seeing the joy on people's faces and recognising how theatre can move people so much - it's mad.
The show has taken the West End by storm, why do you think it's been so successful?
In these hard times when it seems everything in the world is a bit crazy, this show gives you hope. It's home grown and people really get behind it.
There have been many kids come to see the show who have told me they too are going to go to school in a dress; some have told me they have come out because of seeing the show. So many people have said that it makes them feel like they belong. We sing this song at the end, Out of the Darkness (In this place where we belong) and it couldn't be more true.
If you could sum up the show in three words, what would they be?
Joy. Hope. Love.
Besides performing, what else do you enjoy doing?
I run a workshop company called Pros From The Shows, and we provide workshops for students all over the country. Some places don't have access to what we have here in London, so we send people out to schools and theatres and they give pupils insight into what it is like to be in this career. They really look up to you and they listen to everything you say. We like to spread the love.
What should audiences expect coming to see the show?
Expect to laugh out loud, but also bring a tissue because you might have a little cry. The show is relatable for so many people. You will be moved by what you see and it will leave feeling uplifted for sure.
Everybody's Talking About Jamie is currently booking at the Apollo Theatre until September 2019.