Ian Wilde, group travel organiser for the Birmingham National Trust Associations, shares his experience of their first group outing since September last year.
"I had first arranged this excursion to take place in June 2020 but Covid forced a postponement and a new date of 19th May, 2021 was chosen.
Only two days into the slightly relaxed Covid 19 restrictions saw the very welcome return of our first coach excursion since our visit to Barmouth last September. It brought to mind the proverb "rarity enhances pleasure", which I am sure proved to be correct as we set off on a cloudy but sunny morning to the Cotswolds and Newark Park, a small National Trust property near Wotton under Edge.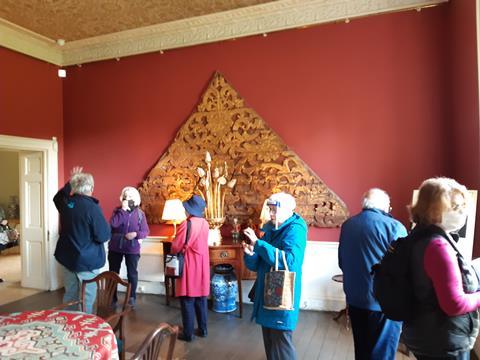 We were warmly welcomed as I handed over our track and trace details, then we made our way towards the house which formerly was a Tudor hunting lodge. There's a wonderful panoramic view from the front of the house and I am sure that influenced its position. Unfortunately, the heavens opened complete with thunder and lightning while most of us were having something to eat and drink. One brave soul just put up his umbrella and carried on eating whilst most sheltered under trees. When it's not showery the walk down the hill to the lake is well worth the effort.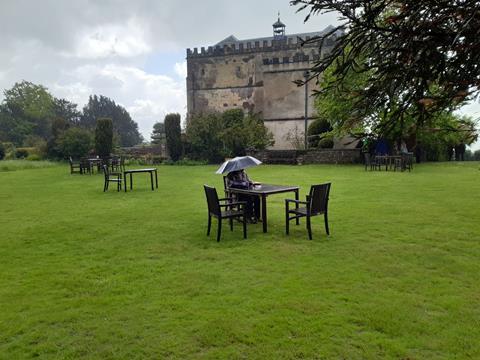 From Newark Park, it was just a short drive to Chavenage House, built-in 1576 and now Grade I listed. Perhaps an apt description of it would be what a Victorian novelist may describe as "a hoary old pile". It is certainly a house full of atmosphere. If only its walls could talk. We were introduced to David Lowsley-Williams and one of his daughters Joanne and given a short introduction about the house.
The house is well known for being used in the TV series Poldark. When our guide mentioned that Oliver Cromwell had slept in the bedroom we were in, I found myself wondering if he had snored, don't ask me why I thought that then. Because of Covid, all the windows were open so I imagine the house is very cold in the winter unless you are near the fire. It is an amazing survivor of a bygone age.
After our guided tour we sat down in the ballroom to a wonderfully lavish afternoon tea, judging by all the clean plates, everybody had enjoyed it.
It was wonderful to be able to get out into the countryside with friends, for some of my group this was the first time they had been out of Birmingham since March 2020."