In the run up to this year's Group Leisure & Travel Awards 2018, we've been talking to previous winners of the GTO of the Year accolade to find out what sort of effect winning has had on their lives.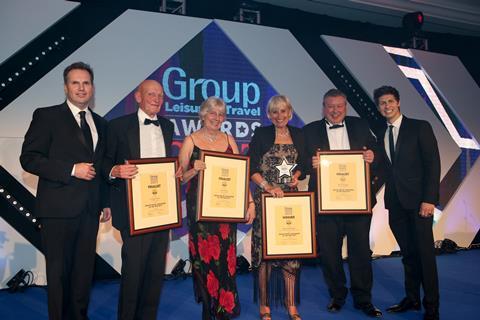 The Group Travel Organiser of the Year Award was set up in 1999 with the intention of shining a spotlight on great GTOs, hearing their stories, learning about the people they organise for, finding out where they go and what they do.
In the run up to this year's award, in its 20th year, we've been talking to previous champions to find out how winning has impacted on their roles as organisers – and how great it still feels to have been recipients of the coveted accolade.
Here's what some of them had to say…
Pauline Johnson, GTO of the Year 2010, of Hinckley Social Theatre & Travel Club, told us that she went in to the Group Leisure & Travel Awards with no expectations and was expecting to just have a nice time.
"When I won it was just like, oh my god!" she said. "A great number of my group were so determined that I was going to win that they all sent in nominations. The support was tremendous."
Our GTO of the Year from 2017, Marian Durbidge of Herts Theatre Club and Go Together Travel Club, also mentioned her group and the impact it had on them.
"To win is amazing. My group were thrilled that I won the award; they feel special that I've been able to put them on the map," she commented.
Lin Wilson, who picked up the award in 2013, told GLT about the effect winning has had on her group travel business, Solent Events & Leisure / Solent Events on Tour.
"Winning has had such a positive impact on my role and the business it generates," she told us. "It's had a great influence on interest levels, and gives me a very professional look, too."
And for Andy Booth, the worthy winner in 2011, winning was real recognition of just how much he does for his Sainsbury's Staff Association group.
He said: "My group suddenly realised what a tremendous achievement it was for me and how much I was organising – it was really just wonderful recognition of everything. It was great to win, I was so chuffed."
The GTO of the Year award 2018
Do you know someone who could be the GTO of the Year 2018? Or are you someone who organises to the full, who deserves to win this award? Get involved now!
Nominations and entries are open for this year's award, which comes with a first prize of £2,000 to spend on a familiarisation holiday.
All you need to do is click to groupleisureandtravel.com/gtooftheyear, then choose the right entry form. There is one for you, if you are a GTO putting yourself forward, or a nomination form if you are nominating somebody else for the award. You can nominate as many GTOs as you like.
All you have to do is complete the form and follow the instructions. To be eligible for this year's award, nominations and entries must be received by Monday 2nd July 2018.
It will be presented at the Group Leisure & Travel Awards ceremony on 10th October at the Hilton Birmingham Metropole hotel.
Need help? If you have any questions about the award the editorial team at Group Leisure & Travel are here to help. Telephone 01908 613323 or send an e-mail to editorial@groupleisureandtravel.com.
For more information visit www.groupleisureandtravel.com/gtooftheyea